Easy Hikes and Horseback Riding on the Beach in Big Sur California at Andrew Molera State Park!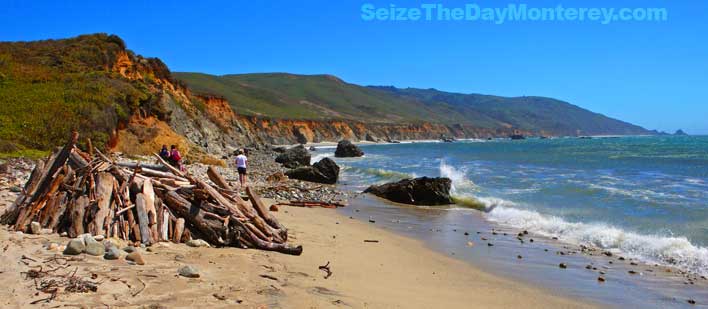 Andrew Molera State Beach in Big Sur California has a lot to offer those that want to get in touch with nature.
There are a number of easy 2 mile hikes to a beach and overlooking bluffs with unbelievable coastal views.
There is wildlife galore to spot such as Sea Lions, Sea Otters, Seals, and a vast number of shorebirds.
And horseback riding on the beach suitable for beginners! There's also Horseback tours to Molera Beach while watching the sunrise, sunset, or anytime in-between!
Great for the Family and Kids!!! But experienced riders may not be too thrilled with the beginner level of the riding itself unless they've never ridden on a beach before.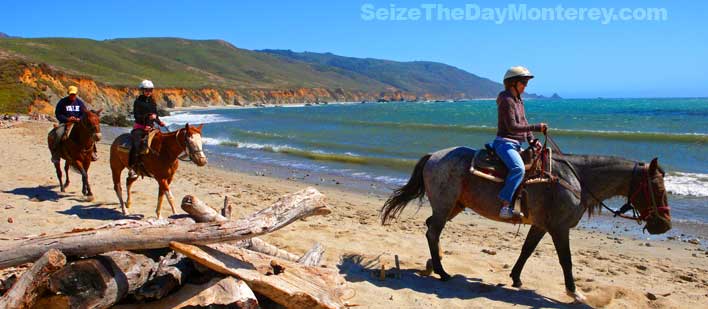 And to top it all off there are campsites available for $5 a night!
They aren't necessarily the most desireable sites as you have to hike in your gear a quarter mile to an open field that has very little tree cover but if you're in Big Sur for hiking, then double bonus!!!
You get to hike in your gear and then you're that much closer to the hikes themselves from your campsite!
But hey, if you're trying to do a little bit of Big Sur Camping at the spur of the moment during the Summer, Andrew Molera State Park will surely be your only hope as they accept walk-ins but I wouldn't chance it. They're first come first served. Make reservations!
*Video:horseback riding at andrew molera state beach in big sur!

Check out this video of Horseback Riding in Big Sur California!
Learn more about Big Sur Camping.
If you really want a Big Sur Beach all to yourself, then there's a good chance you'll get your wish here!
There are a number of secluded beaches off of some of the trails here.
Believe it or not this beach use to be a favorite for nudists at one time…
Not so much any more…
As the Park Rangers cracked down on this and it's pretty much non-existent these days. But you never know, have your camera ready 😉 or blindfold depending on if that's something you want to see or not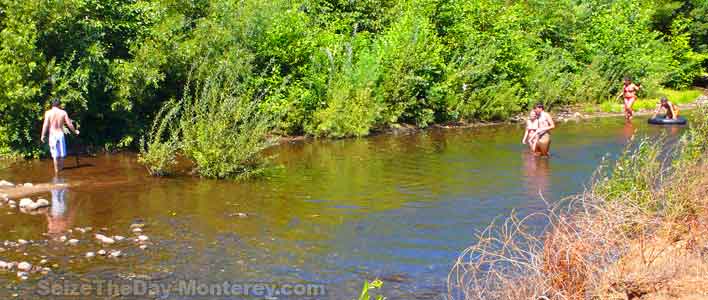 Fun in the Big Sur River on Your Way to Molera Beach!
Andrew Molera State Beach is just a few minutes from the Point Sur Light Station on Highway 1 if your coming form the Monterey Carmel area, or just a few minutes from Big Sur Village if you're coming from the South. Access is easy as there are highly visible signs and will be on the ocean side of the highway.
It is a State Park so parking will be $10 per vehicle but if you don't mind adding a few minutes to your hike, park on the outlet off of Highway 1 for FREE and hike in.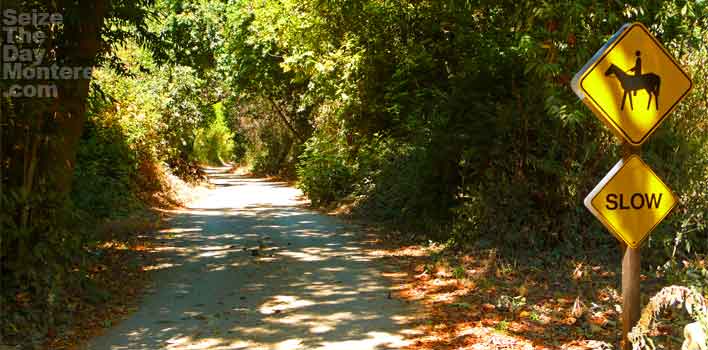 For the Molera Horseback Tours, just hand an immediate left after the turnout from Highway 1. Parking will be free for patrons down this way. I highly recommend reservations, especially during the summer months. All horseback tours go the beach, but you won't be stopping there or anywhere else. You're on your noble steed the entire time.
Some tips on visiting Andrew Molera State Beach:
It's an easy hike to the beach but a 2 mile hike none-the-less. If hiking isn't your thing but love beaches, go directly to Pfeiffer Beach or check out the Best Beaches of Big Sur California
Watch Out for Dung Piles! The horses have to go somewhere and it's usually wherever they are so that often means it's on the walking path.

Just watch your step 😉

Free Admission to all the other Big Sur State Parks when you pay for one! So the parking fee you paid for Andrew Molera State Park will get you into Pfeiffer Big Sur State Park, Point Lobos, etc. You can get into Andrew Molera SP for Free as well by parking
Free Admission to Molera State Park: Park across Highway 1 and walk down to Andrew Molera SP. This is perfectly legal as they charge for parking and not admission.


No Bathrooms on the trails and they're 2-4 miles roundtrip, use the bathroom before you hike.

Watch out for Poison Oak!
It is everywhere. The trails are clear for the most part but use the old boy scout saying "Leaves of 3, Let it Be" as a reminder.
Dress in Layers, the climate in Big Sur California varies and can change drastically and very quickly. The temperature will vary greatly from the parking lot to the Beach which may be cooler.
Cross a small bridge over the Big Sur River to get to the trails which is not a problem during the summer months. But in winter the bridge won't be there due to rising water levels from the rain so you'll either get a little wet crossing (if it's safe) or take detour:
For Easy Hikes take the Beach Trail and the Bluff Trail and the views will not disappoint!
Check yourself for ticks after your visit. They're common in Big Sur California. Your best bet for prevention is to wear long pants, and high socks. Tuck your pants into your socks if possible.
Keeping some bug repellant in your car is a good idea. Use it if you need to. Constantly having to swat at flies will kill your Big Sur California Beach hike. I've experienced this first hand and it's no fun and it is even stressful.
Allergic to Pollen? Be sure to take your Clariton or whatever works for you, it's pollen city in most of Big Sur California. I once had an allergy attack while at Molera Beach and sufferred miserably until I got back to my car 90 minutes later as I forgot to take my Allegra.
See the Monarch Butterflies! If you're visiting Andrew Molera State Park between October and March check out the migrating Monarch Butterflies. Ask a Park Ranger where the latest sightings have been or see the Monarchs at the Pacific Grove Sanctuary
Help me help others enjoy Big Sur to the fullest!
Send me a quick line of your favorite hikes, beaches, and experiences. Pics and Vids fully welcome

Or just leave a quick comment below!!!
Other Big Sur Articles that You May be Interested in: