Are You Looking for a Great Monterey Restaurant for Breakfast Before Hitting the Monterey Aquarium?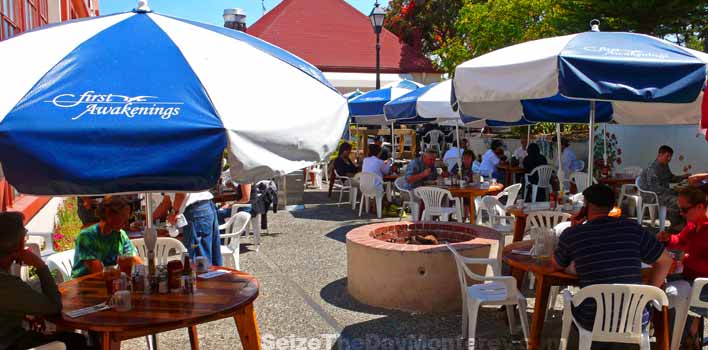 Of all the Monterey Restaurants, First Awakenings is our favorite Breakfast Spot!
They're perfectly located just 1 block away from the Monterey Aquarium. This makes First Awakenings the perfect spot to grab a great breakfast before checking out the Monterey Aquarium.
First Awakenings has quite an extensive breakfast menu from your traditional bacon, sausage, eggs, to omlettes, to gourmet pancakes the size of hubcaps, to even Crepes. And it is all pretty dang exciting!
Our absolute favorite has to be the Mushroom Caps! They are just delectable. Try them as a side for $3.79 or go for the Cap-cetera Breakfast pictured below.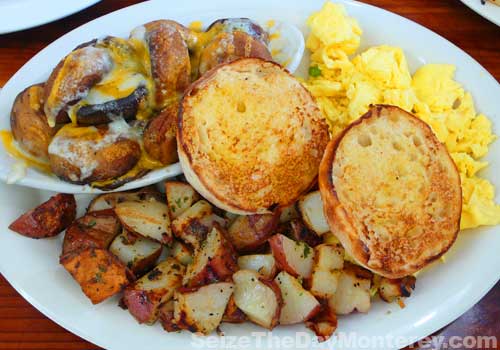 The Mushroom Caps Are To Die For!
Did I mention they do a pretty great lunch as well? So if part of your party would rather have a burger instead of breakfast, First Awakenings can accomadate. I love their Terriyaki Chicken Sandwich!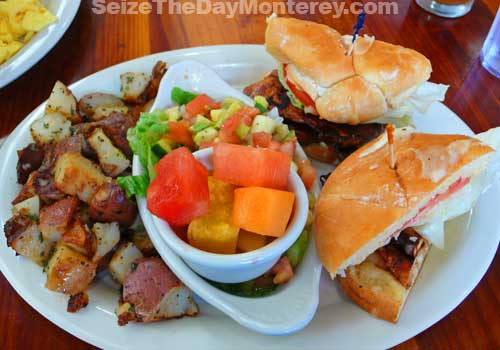 First Awakenings Also Makes a Mean Lunch. The Terriyaki Chicken is Superb!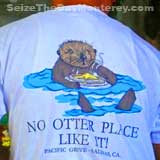 But be forwarned, First Awakenings is a very popular Monterey Restaurant. It is jammed packed on the weekends. Typically you can expect anywhere from a 10-20 minute wait on the weekends. Less if you opt to sit out on the patio.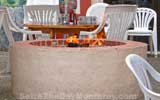 It can get cold on the patio as Monterey CA isn't your typical California climate. They do have a fire pit that does help a bit but if you get cold easy, wait to be seated indoors.
So How's the Bill?
Very affordable, matter of fact I believe it was Rachel Ray who awarded First Awakenings "The Best Breakfast for Under $40" award or something. So this says a lot.
Some Useful Tips for Dining at First Awakenings:
They're Located Inside the Tin Cannery Mall:

When your cruising the Mall just look for the Sun Sign and a group of people waiting to be seated right across from the Shoe Store and you'll know you've found it.

First Awakenings is Usually Busy:

On Weekends, expect at least a 10 minute wait. Shorter if you don't mind eating out on the patio. It can get a little chilly but they have a fire pit to keep things toasty but sometimes even that doesn't help much.

They're Only Open from 7:00-2:30

On weekends their hours are 7:00-2:30 and 7:00-2:00 on weekdays. So they're game for a great breakfast, brunch, or lunch but not dinner.




Free 2 Hour Parking!

Park in the Tin Cannery Parking Lot which will give you 2 hours of Free Parking with dining at First Awakenings.

Be sure to get your parking ticket validated at the restaurant.
If you forget just show the parking attendant your receipt.

125 Ocean View Blvd, Pacific Grove, CA 93950

They're Right Across From the Monterey Aquarium!

Talk about a match made in heaven. Get 2 hours free parking, grab an excellent breakfast at First Awakenings, and then walk a block to the Monterey Aquarium and don't forget your Free Monterey Aquarium Tickets!

They Serve Lunch as Well:

Breaking for lunch from the Monterey Aquarium? Walk a block and grab an excellent lunch. But make it before 2:30 on weekends and 2:00 on weekdays.

No French Fries

First Awakenings does potatoes instead and they're really good. This isn't a dealbreaker but definitely note worthy as our youngest is a big fan of french fries.

Monterey First Awakenings Hours, Address, and Phone Number

Hours: 7:00 – 2:30 Sat/Sun 7:00 – 2:30 M-F
125 Ocean View Blvd (Inside the Tin Cannery Mall)
Pacific Grove, CA 93950
Phone#: 831-372-1125
Help me help others enjoy Monterey to the fullest!
Send me a quick line or review of your favorite Monterey Restaurant! Pics and Vids fully welcome

Or just leave a quick comment below!!!
Other Monterey Articles that You May be Interested in: