Get Up Close in Person with this Monterey Harbor Cruise! You'll enjoy Monterey's Wildlife and coastal views in Under 30 Minutes in this unique Glass Bottom Boat Monterey Tour!

Most Whale Watching tours last anywhere from 2-5 hours and can be the highlight of your trip.
But If you're unsure about seasickness or don't want to spend 2-3 hours on a whale watching tour then this is what you're looking for!
The Glass Bottom Harbor Cruise is a very relaxed 25 minute tour on very calm water located on the Old Fishermans Wharf.
We took both of our boys when they were 3 years old and they loved it.
And we took them again when they were 5 and then 8 and they loved it even more. And to be perfectly honest, I like the cruise as well. 😀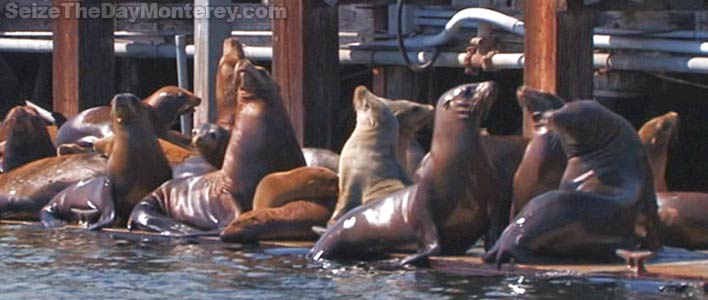 It's such a nice boat ride that gives you a nice tour of the harbor and sometimes the coastline if the waters are calm enough.
You get such a different perspective seeing Fishermans Wharf from the water.
We got some really great views of Sea Lions that hang out under and around the pier.
My boys enjoyed barking at them as if they were talking with them.
I remember asking what the Sea Lions was saying, and the response I got was priceless: "He said he's hungry". Chances are he was right! There was a time when you could buy sardines and feed the Sea Lions from the wharf, but not anymore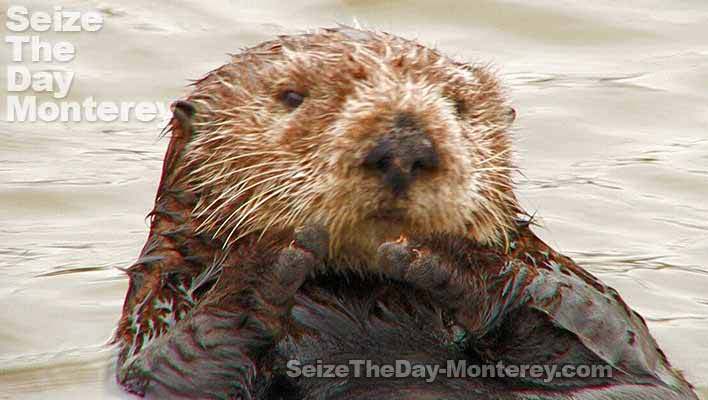 Never feed the wildlife here in the Monterey Bay Sanctuary. It's against the law and believe it or not, it does the animals more harm than good. It teaches them not to fear people and it also keeps them from learning to hunt for food in the wild. Not a good thing on all counts.
You'll Surely See These Adorable Sea Otters that are pictured above on Your Monterey glass bottom boat Harbor Cruise!
On every Harbor Cruise trip that I've taken I've always seen Sea Otters. They are one of the main attractions of Monterey California.
They're just a lot of fun to watch as they can be both playful and peaceful depending on their mood 😉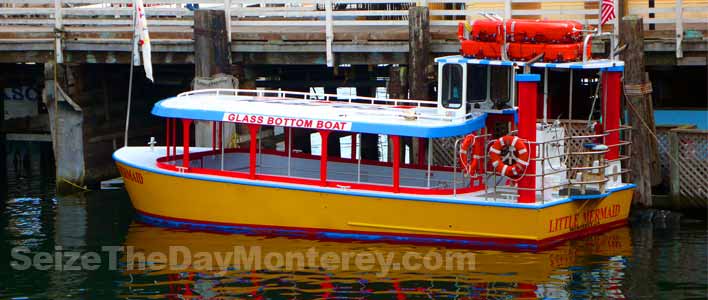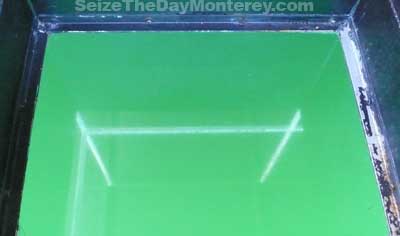 The glass bottom of the boat is more of a novelty than anything. The times we went we could only see green cloudy water with occasional kelp and a few small minow fish. This was during the summer when algae and plankton is in full bloom which is what makes the water green. This may be a different story during other seasons though.
This was soon forgotten as there was plenty to see elsewhere such as Sea Otters, Harbor Seals, plenty of Seagulls, Black Cormants, and of course, Monterey herself from the water!
The Monterey Glass Bottom Harbor Cruise is well worth the $36 total ($10 per adult, $8 per child).
Some Tips on getting the most out of your Glass Bottom Boat Harbor Cruise
The tour makes a perfect before or after lunch treat.
The ride is smooth enough for just about anybody unless you suffer from extreme car/sea sickness.
You can possibly save $1 per ticket with a coupon! Look for those brochure stands that give ideas of things to do in the area. Often times they'll have a brochure for whale watching and the harbor cruise with a coupon for $1-$3 off. No guarantees though as this often changes. Sometimes just asking if there are any discounts or coupons while "asking" for information on the cruise will get you a discount as they want your business.
It can get a little chilly out on the water so bring a sweatshirt. I'd suggest taking the cruise around 1-2, when it's the warmest, although a sunset cruise is really nice. Sunscreen is a good idea as well even if it's overcast.
To board the vessel, you do need to go down some stairs that are a little steep. No big deal for most people, just watch your step.
Tours leave every half hour beginning at 11:30 and end at sunset during the tourist season: June through October.
They only operate Weekends and Holidays November through May.
Help me help others enjoy Monterey to the fullest!
Send me a quick line about your Harbor Cruise trip here in Monterey Bay! Pics and Vids fully welcome

Or just leave a quick comment below!!!
Other Articles that you may be interested in