We're a family with young kids living in Monterey California, so you better believe we have to know where all the fun spots are for our boys! Don't miss Dennis the Menace Park!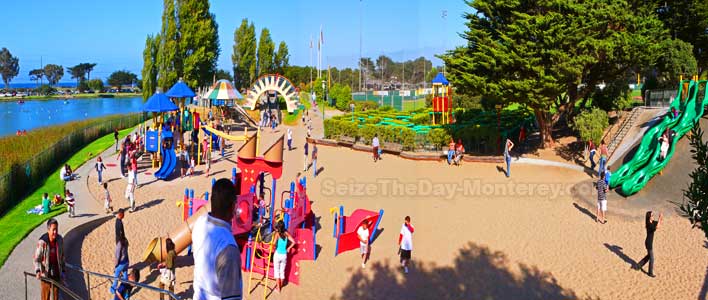 Let's be honest, sightseeing isn't the most thrilling thing to do for kids. And in most cases it isn't the funnest thing for young adults (teenagers) either.
And if we're being perfectly honest, some adults aren't very fond of it either 😉
Best solution, mix it up. Do it in doses.
If you mix in enough fun kid's activities throughout your trip, then suddenly everybody is having a whole lot more fun!
And if the kids are happy then chances are you're going to be happy! A win-win for everybody! See the items below for our Favorite Ways of Having Fun with our Kids in Monterey California! Comment on this Article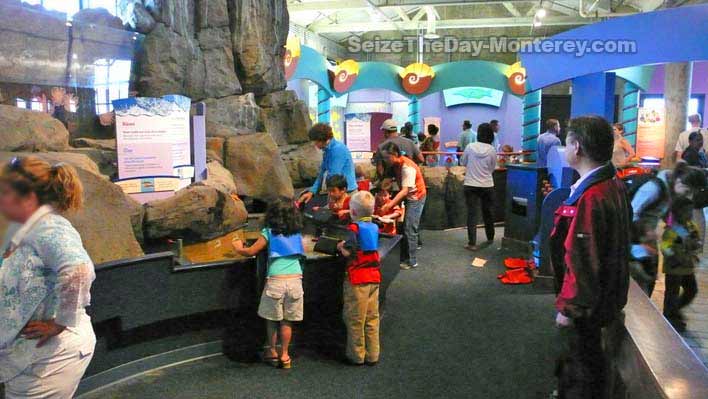 There is something for kids of all ages at the Monterey Bay Aquarium, even the grownup ones! If you have young kids, head to "Splash Zone!" first.
We visit the Aquarium at least 1-2 times a month, and on each visit, our boys can't wait for Splash Zone! Find out what makes the Monterey Bay Aquarium so amazing.
Here's a great tip for the young ones. Go to Splash Zone first thing, then promise your kids that you'll go back to Splash Zone at the end of the visit if they have been well behaved. Nice incentive for them but truth be told, the Monterey Aquarium is so captivating, your children will be more than occupied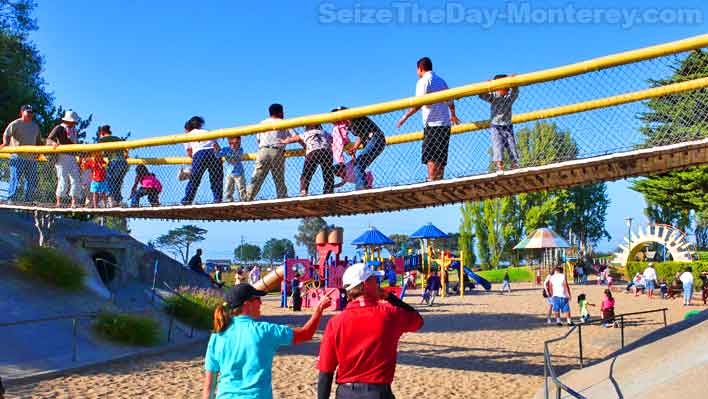 Dennis The Menace Park:
Jammed packed with giant slides, a suspension bridge, a hedge maze, a full size Historical Steam Engine Locomotive to explore, rock climbing, and more. And not to mention the Skateboard Park 😀
Take a break from sightseeing and let the kids run free for an hour or so. They'll have a blast and if you join in on the fun, and how could you not ;), then you'll have a blast too!
They will love you for it and what a great workout for the entire family!!!
Don't miss the Dennis the Menace Park Paddle Boats either! You'll get to take a self-powered boat ride in calm lake waters with the Monterey Bay as your backdrop!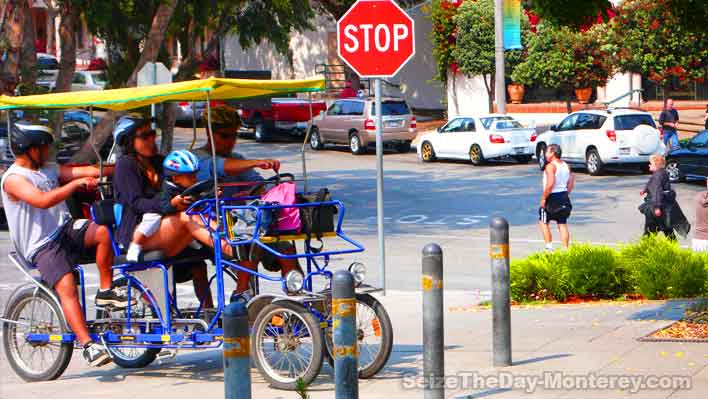 A surrey (a four wheel bike) ride on the recreational trail is one of the best ways to get acquainted with the coast.
It's also great exercise and a blast for the kids and entire family.
One of our favorite and most recommended activities in the area!
Fishermans Wharf
A great place to take the kids. There's plenty to see such as Sea Lions, Sea Otters, and Pelicans. There's a great candy shop as well and George's Birds is always fun!
Whale Watching Tours and the mild Harbor Cruise also depart from Fisherman's Wharf.
Don't miss Old Fisherman's Grotto for lunch!
Whale Watching Tours:
Great fun for the kids and the entire family! There's nothing like seeing these majestic giants in the wild, especially when they breach! The calm 30 minute Glass Bottom Boat Harbor Cruise is much better suited for young children.
A full blown Whale Watching Tour may be too much for your young ones, but our toddlers loved the calm 30 minute Glass Bottom Boat Harbor Cruise.
I enjoyed it as well! You'll get a good look at Sea Lions, Sea Otters, Seals, birds, and Monterey itself from the water!
Build a sand castle, race the surf (and each other!), fly a kite, toss a Frisbee, watch hang gliders soar,and much more.

Lover's Point Beach is perfect for young children as the water is usually calm and shallow, but always use caution and follow the advisory signs posted.
Tidepooling Monterey
Tidepooling in Monterey allows you to explore together one of the richest tide pool habitats in the world! That's right; Point Pinos or "The Great Tide Pool" is yours for the exploring. My boys love the hermit crabs and their colorful shells. No worries Mom and Dad, they are harmless!
Asilomar Beach and Point Lobos also have great Monterey tidepooling opportunities.
Please, do not take anything from these precious ecosystems, it is against the law and is finable.
Dennis the Menace Park Paddle Boats:
Located right next door to Dennis the Menace Park are Paddle Boat rentals. This is always a blast for our boys and for us as well.
You get to paddle next to geese, circle around an island while enjoying fantastic views of Dennis the Menace Park and Monterey.
Ocean's 18 Blacklight Miniature Golf:
A fantastic place to visit, especially if you have a group of kids to entertain. This indoor blacklit miniature golf course has a great underwater aquatic theme going on that is well suited for being in the Monterey area.
Oceans 18 is conveniently located in Pacific Grove at the Tin Cannery mall right across from the Monterey Bay Aquarium. Perfect for birthday parties as well!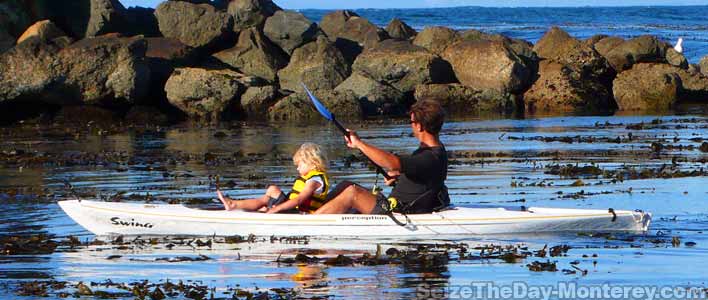 Kayak the Bay:
Older children might enjoy kayaking on the bay with a parent in a two man kayak. This is truly an up close and personal experience with Monterey and its wildlife.
Adventures by the Sea rents kayaks and has guided tours for beginners. Lover's Point Beach is the perfect launch spot as it is usually very calm there.
Wild Things Animal Park:
Check out an African Lion, a Bengal Tiger, African Elephants and so much more at Wild Things Animal Park.
Wild Things is a facility where animals are trained that star in film, TV, and live productions. They're located on River Road out in Salinas, about a 25 minute drive from Monterey.
Monterey My Museum:
A great place for kids 6 and under. Plenty of hands on exhibits, costumes for the stage theater, cooking, a doctor's office, and much more!
Located in Downtown Monterey
A great deal of fun for the kids. Parents rejoice as you'll not only get to sit down to a spectacular dinner but you'll also have a show to entertain the kids!
You and your Children will love the show the Master Samarai Chefs put on right in front of you as they cook your food. Volcanoes, Fireworks, and Trains Oh My!
Movies:
After lugging the kids around the areas premiere shopping destination, the Del Monte Center, treat them to a movie.
The Del Monte Century Theaters is the best movie going theater experience to be had in the area. Stadium seating, comfortable chairs, and excellent sound; all that you come to expect from your movie theater outing.
Cold Stone's Ice Cream right across from the theater is perfect for that post movie dessert. There's an IMAX giant screen theater right on Cannery Row, but the movie selection is very limited.
Thinker Toys
Not your typical commercial toy store. It has a childhood nostalgic feel that will awaken your inner child, and oh yeah, your kids will love it too!
The Carmel store is much larger than the Del Monte Center location. Stop by the Carmel location after spending the day at Carmel Beach, it's within walking distance.
Free Downtown Trolley:
Children five and under will get a kick out of riding the old town style trolley. It goes from Downtown Monterey to Fisherman's Wharf, down to the Monterey Bay Aquarium and back.
This can be a back saver for parent's who forgot the stroller! Available only during the summer months of May 24 thru September 1 and on major holidays.
Help me help others enjoy Monterey to the fullest!
Send me a quick writeup of your favorite things to do with your kids here in the Monterey Bay! Pics and Vids fully welcome

Or just leave a quick comment below!!!
Other Monterey Articles that You May be Interested in: