Would You Like Some Tips on going to Big Sur with Kids? Then Keep Reading!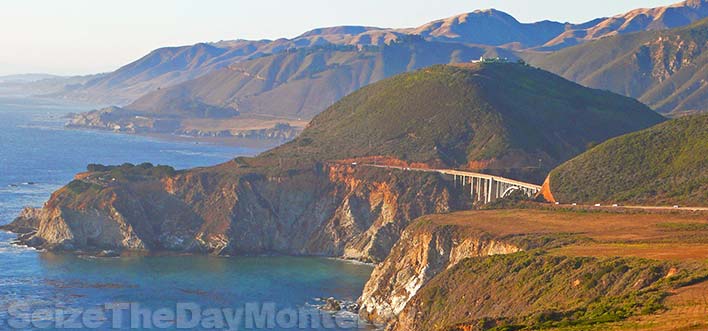 Family Trips out to Big Sur are my absolute favorite.
You would think a nine and four year old would find a scenic area like Big Sur boring.
Think again!
To my surprise they absolutely loved it! There are many things to do in Big Sur with kids.
Now every kid is different I know this and compared to Monterey or Carmel, Big Sur doesn't have as many kid friendly activities.
But it makes up for it in natural beauty and grandness which taps into our inner yearning for exploration. If your little ones like to hike, then your kids will love Big Sur California!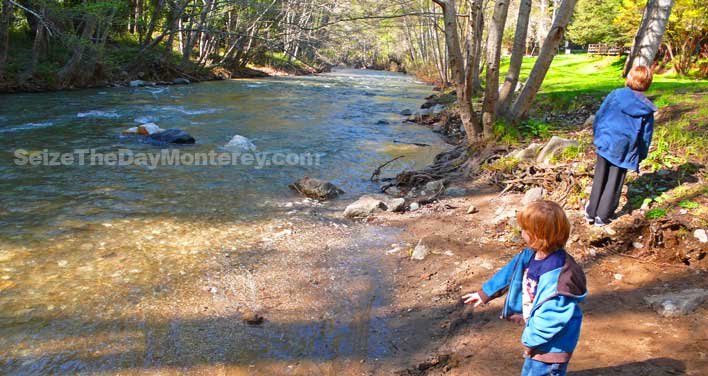 Sight seeing isn't the funnest thing for kids but you shouldn't miss out on the greatest stretch of coastline because you think your kids won't like it.
Give them a chance and you know what, they may surprise you, my kids sure did! They couldn't get enough!
Don't forget your camera!
There are a number of things you can do to make it fun for them!
Check out my Kid's Tips below to make your trip to Big Sur California is as memorable as ours was. If you suffer from vertigo than possibly skip this drive or just do the Big Sur California Quick Trip.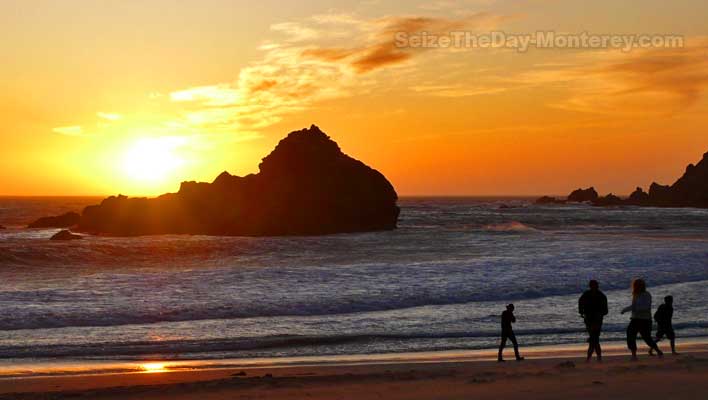 Big Sur California Trip with the Kids Tips
Lodging in Big Sur with Kids:
What is the #1 thing a hotel must have to get your child's approval?
A swimming pool and there are a few Big Sur Lodging options that have one.
One of them is the Big Sur River Inn and the pool is heated which is necessary in Big Sur's climate!
The Big Sur River Inn's pool which is pictured below is just a few yards from the Big Sur River which is a lot of fun for the kids to explore, skip stones, and even play in! The rooms are spacious as well and some them even have fridges and fireplaces.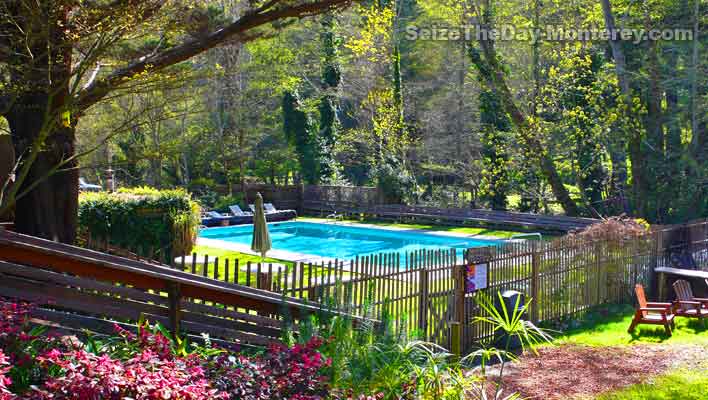 Stop Often!
You may be completely captivated by the challenging Highway 1 but your kids will tire of the drive quickly. Make it a point to pull over often so that you can enjoy the scenery together as a family. Find out where you should stop at with:
Big Sur California Best Sight Seeing Spots!
This also gives the driver a chance to take in the scenery as well as Highway 1 can be challenging. DO NOT enjoy the scenery as you drive, this is not a good combination.
See my Big Sur California Driving Tips for more Pointers.
Keep Your Kids Close:
Many of the Vista Points in Big Sur are bluffs overlooking the ocean and it's a long long way down. Some highway turn outs and walking trails provide some type of a barrier but most DO NOT.
There is an element of danger but common sense parenting that we all practice with handholding and "no horsing around the on cliff" rules makes it a safe and enjoyable trip even for the little ones 😉
Horseback Riding on the Beach is one of many fun things to do in Big Sur with Kids!
Take the kids on a memorable Horseback Ride along the beach at Andrew Molera State Park! This is a great way for your family to spend some quality time together and really be up close and personal with Big Sur at the same time.
Walk-ins are welcome but I would recommend making reservations. Learn More about Andrew Molera Horseback Tours.
My Kids Love Bixby Bridge in Big Sur!
And you will too! The Bixby Bridge is the biggest bridge in all of Big Sur and it is a sight to behold. The perfect photo opportunity and there is just something magical about watching your kid marvel at the grandness of this great bridge. Keep your kids close though, there are sharp drop offs near the edge.
You can actually walk out to an observation bench on the Bixby Bridge itself but the walkway is very nary with oncoming traffic. Use extreme caution, especially if the young ones go with you.
Find out what other spots to hit with The Very Best of Big Sur
Skip these Hotels and their Restaurants in Big Sur, Kids are Not Allowed:
Both the Post Ranch Inn and the Ventana Inn and Spa have a strict no persons under the age of 18 allowed policy. This also includes their restauraunts Sierra Mar and Cielos.
These high end luxury resorts which run anywhere from $550-$2200 a night are primarily a romantic couples retreat location. Hotspots for Honeymooners and the rich and famous.
A no go for the family, but perhaps on another trip for that
Do You or Your Kids Get Car Sick?
If so then I highly recommend taking motion sickness medicine like Dramamine or Bonine (I prefer Bonine, less wooziness). Highway 1 in Big Sur winds and curves and ascends and descends all kinds all the while overlooking steep cliffs down to the Pacific Ocean. It is no fun to be car sick in Big Sur California or anywhere for that matter.
Taking one dosage of motion sickness medication the night before and then halving the dosage the day of the drive will do the trick. I do this for Whale Watching tours and it works like a charm. Taking the medication right before the drive might not be very effective. Be sure to follow the medications directions and warnings, especially for your children.
Can't take motion sickness pills but don't want to miss Big Sur either? No problem, do the Big Sur California Quick Trip
McWay Falls = A Can't Miss Family Spectacle:
If you're looking for an easy hike with a tremendous pay off, look no further than McWay Falls. This easy 5 minute hike will bring you to the crown jewel of all of Big Sur! This is one of the best things to do in Big Sur with kids!
The trail is fenced off from the bluff so it is relatively safe for children.
Pfeiffer Beach was Made for Families! One of the best things to do in Big Sur with kids if you love beaches!
Pfeiffer Beach is the perfect family spot as it has to be the most gorgeous beach in all of Monterey.
There are plenty of tide pools for the kids to explore along with rocks to climb. But DO NOT let the kids swim here. The currents and waves are very strong here. Also, it tends to get windy at Pfeiffer Beach so have the windbreakers handy.
The turnout to this "Secret" beach is easy to miss.
Big Sur Beaches You Cannot Miss
Easy Hikes in Big Sur with Kids!
Big Sur is a hiker's dream with many challenging hikes but that doesn't mean there aren't easy ones for you and your kids to enjoy together!
McWay Falls is a quick 5 minute hike that even toddlers can do that is very safe and takes you to an unbelievable view.
Point Lobos is my personal recommendation for the number of Easy Hikes for the family available along with vast amounts of wildlife and magical scenery.
Kid Friendly Big Sur Restaurants:
Having a blast in Big Sur California will bring on the most ferocious appetite in you and your kids! Luckily are there are a number of fantastic kid friendly Big Sur Restaurants.
You can't go wrong at the Big Sur River Inn Restaurant or the all famous Nepenthe Restaurant. Packed picnics are always a blast especially if you let your kids help pick and pack it!
Don't Forget Snacks and Drinks:
Nothing is worse than a car full of hungry and thirsty kids with no place to stop. Forgetting the snacks is one of the things not to do in Big Sur with kids. Places to stop for something to eat can be few and far between in some areas of Big Sur. Save yourself and bring plenty of goodies and drinks for the ride.
Grab some treats at the gas station while your filling up before going to Big Sur (do not buy gas in Big Sur unless you want to get poor).
Or better yet stop at the Safeway at the Carmel Crossroads. They'll have what you need and then some, including great sandwiches for that Big Sur Picnic!
Kids Love Animals!
Go where the animals are and your kids will surely be captivated!
Point Lobos has a great concentration of wildlife such as Sea Otters, Harbor Seals, Sea Lions, Egrets, Great Blue Herons, Crabs, and even migrating whales depending on the time of year.
Piedres Blancas has an Elephant Seal rookery that is quite a site to behold but it is at the very southern edge of Big Sur and will require some driving if you're coming from the Monterey area but totally worth it. You get great close-up views of these guys from the observation points.
Hoodie Sweatshirts and Jackets are a Must!
It can get cool and windy in Big Sur and sometimes just downright cold. Keep the kiddies sweatshirts and jackets handy. Jeans are usually a good idea as well.
Dressing in layers is the way to go while in Big Sur and Monterey.
Don't forget extra socks and shoes + jeans if there's any chance the kids will be racing waves or splashing in the Big Sur River. Water shoes and Crocks are life savers for this reason 😉
Don't Hog the Camera!
You'll be amazed how engaged your kids become when they're trying to capture that perfect shot.
The problem is that with these gorgeous Big Sur landscapes, you might have a problem getting your camera back! My recommendation, bring 2 cameras 😉

Bring a Small Lightweight Tripod:
Family photos in front of the Big Sur California coastline are an absolute must. A picture of my family and I sits on my desk at work and guess what, it was taken with a tripod because frankly, there was nobody around to ask to take our picture.
Have a small easy to use tripod in your car or on your person for this very reason. Also, learn to use the timer function of your digital camera, it's actually quite easy.
Help me help others enjoy Big Sur to the fullest!
Send me a quick line of your favorite things to do with your kids in Big Sur! Pics and Vids fully welcome

Or just leave a quick comment below!!!
Other Monterey Articles that You May be Interested in: