My absolute favorite place for watching Monterey Sea Otters!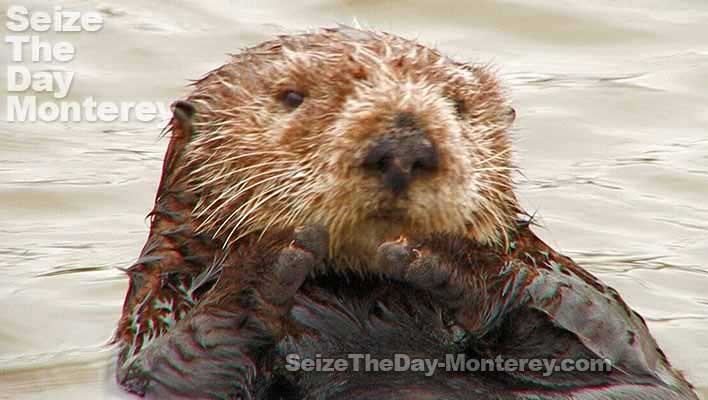 If there was one animal that represents Monterey, California, it would have to be the Monterey Sea Otter.
Monterey Sea Otters are beautiful, elegant, and such a treat to watch that they themselves are an attraction to any visitor or local to the Monterey Bay.
The problem is that they are sometimes hard to find and often times when you do encounter them they can be quite a distance away,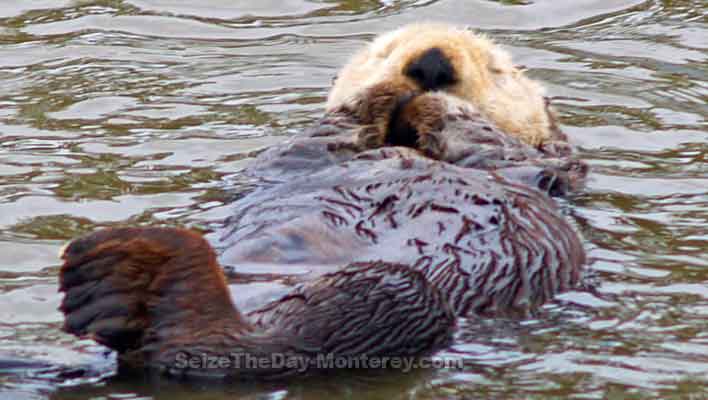 There are many places you can spot Sea Otters in the wild, including Fishermans Wharf, Pacific Grove, and Point Lobos.
But the single best place see these guys up close and personal is a well kept secret here in Monterey.
Keep reading if you would like to get the best viewing experience with these lovable guys!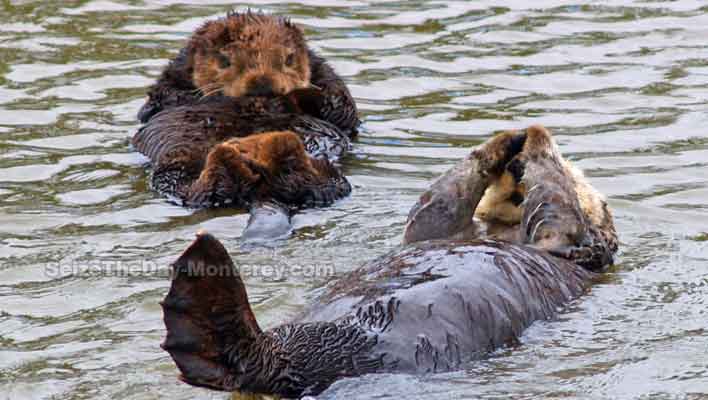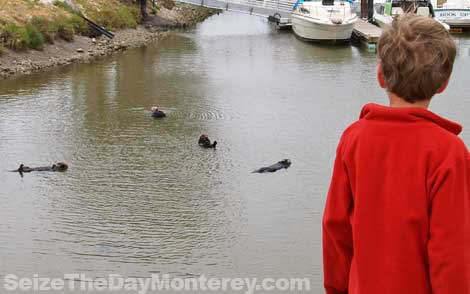 Unless you know about one of the Monterey Sea Otters Secret Hangout!
My absolute favorite place for Sea Otter watching is at the Moss Landing Harbor Channel.
Here you will find often times 10-15 Sea Otters!
They'll be frolicking, gathering food, or just rafting (resting) in the harbor and often in 1-2 large groups.
This is an up close and personal experience most times.
On many occasions I've found myself 10-15 feet from these gorgeous animals for extended periods of time.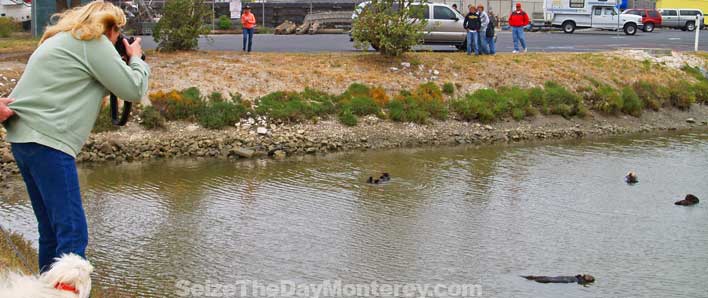 Bring your camera as there are Monterey Sea Otters Picture Opportunities Galore!
Sea Otters are so curious that one otter came up to the rock where I was standing just to check out my tripod and camera gear!
He was so close I could have reached out and petted the adorable guy.
Remember, although they are cute, they are still wild animals.
Do not attempt to pet or feed them.
Tips on visiting the Secret Sea Otter Hangout:
The half hour drive from Monterey will take you out of the immediate main site seeing attractions that Monterey has to offer.
Give yourself 2 hours (including driving time) to check out the Sea Otters. It's amazing how quick time passes when you're watching these guys!
Check out the Sea Otter hangout if you have already checked out the main sights of Monterey The Moss Landing Harbor is nice, but it pales in comparison to Fisherman's Wharf, Lovers Point, and Downtown Monterey.
There are many other attractions in Moss Landing worth checking out including whale watching, kayaking, guided tours, and bird watching.
The California Sea Otter was once believed to be entirely extinct.
California Sea Otters are protected by the Endangered Species Act, the Marine Mammal Protection Act, and California State law. There is a $20,000 fine and up to a year in prison for anyone caught harassing or harming them so be respectful.
Directions to the Secret Sea Otter Hangout
There are 2 different locations that I have had great luck watching sea otters from in Moss Landing. One is at the Moss Landing Harbor and the other is right across from the Moss Landing State Beach. They are just a couple of minutes away from each other:
From From Monterey take Highway 1 North. Drive for about 15-20 minutes.
Turn left onto Moss Landing Road.
The harbor will be immediatley on your right side where I'll often find 1-8 Sea Otters relaxing. You can get some really great views here.
The other location which usually has more Sea Otters is a little further down the road.
Get back onto Highway 1 North (left turn) and drive for about 2-3 minutes.
Turn left at the Moss Landing State Beach entrance.
The Sea Otters usually hang out in the Harbor Channel which will be on your left. Find parking and venture out onto the beach and rocks for great views.
Help me help others enjoy Monterey to the fullest!
Send me a quick writeup of your Sea Otter story or viewing spot. Pics and Vids fully welcome of these cute guys

Or just leave a quick comment below!!!
Other Monterey Articles that You May be Interested in: