Would you like Monterey Bay Aquarium Discount Tickets? Or even a FREE Ticket or a Cheap one? Read on!

Monterey Bay Aquarium discount tickets can help take the strain off of your wallet! Especially since Aquarium tickets are $35 for an adult and $22 for each child. This adds up rather quickly. Prices subject to change, check the Monterey Bay Aquarium's web site out for the latest prices.
Monterey Bay Aquarium Discount Tickets are a rare find but they are out there. With the skyrocketing price of gas these days along with everything else, we need to save money anywhere we can!
Even saving just a couple of dollars per ticket adds up, especially with a large party. Matter of fact you can get a much bigger Monterey Bay Aquarium Discount if you have a large party by getting a Monterey Bay Aquarium Membership! And extra bonus, you'll be able to visit as many times as you like for a whole entire year! If you live in California, then this is the deal!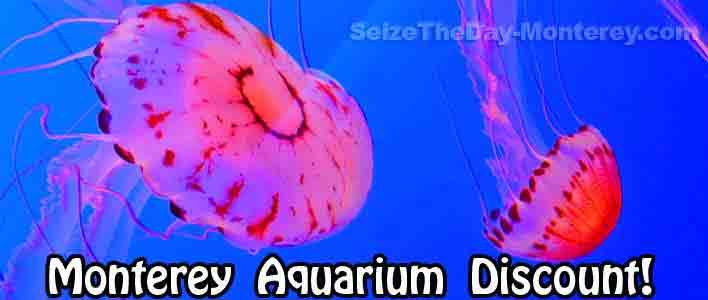 There are a number of ways of getting a Monterey Bay Aquarium Discount that can truly add up to some serious cost savings. Maybe even enough to pay for a nice lunch!
Many local Monterey CA hotels have a 2 day pass to the Monterey Bay Aquarium for the price of 1 day! This is a serious discount and value for your visit to Monterey!
In my personal opinion it is much better to spend two half days at the Monterey Aquarium than 1 full day. You save money and have a much better time! What could beat that?
It's so much more enjoyable and relaxed. Especially if you're bringing the kids! See below for how you can save money and even get FREE Tickets! No joke!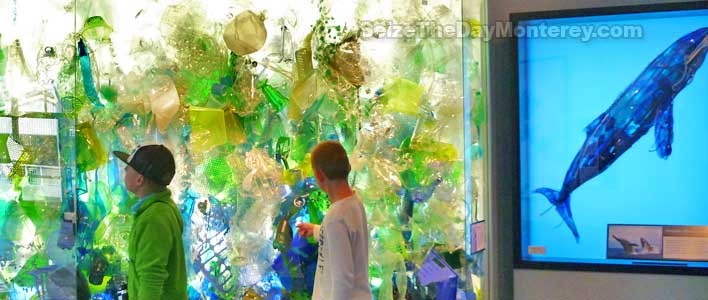 Monterey Bay Aquarium Discount Tickets
FREE Monterey Bay Aquarium Tickets are available!

Before spending money see if you can get your tickets for FREE!

Children Under 3 are FREE!

This little detail can save you $17 for each child that is under the age of 3 years old!

Monterey Bay Aquarium Student Discount

Save $2 per ticket if you're a student aged 13-17, a college student, or attending some type of military school.

Be sure to bring your ID for the discount.






Monterey Bay Aquarium Senior Citizen Discount

Save $2 per ticket if you're a Senior Citizen aged 65 or above.

If you have a large group and many of them are kids, then a membership may be the way to go. Depending on which package you get, all children under the age of 21 get in free along with 2-4 adult passes. Do the math and you may save quite a bit.

Save money with the Monterey Aquarium Membership

Monterey Bay Aquarium Discount at AAA

Sometimes you can purchase Monterey Bay Aquarium tickets from AAA. Usually $2 off per ticket. This applies to both adult and children's tickets.

You'll have to go to a AAA office that offers the Monterey Bay Aquarium AAA discount though.

The Aquarium doesn't offer the AAA discount at the door. The closest AAA office is literally a 5 minute drive from the aquarium.

I recommend calling first. Monterey AAA office: (831) 645-1900. They are located at: 53 Soledad Dr. at Pacific St. Monterey, CA 93940

If you're active duty or retired military, or work for the US government then you can purchase discounted tickets at the Naval Postgraduate School located in Monterey.

If the above aquarium discount tickets aren't getting you enough money off of your Monterey Aquarium tickets then try some of these Monterey Bay Aquarium Coupon

Free Monterey Bay Aquarium Tickets

Monterey Bay Aquarium Discount

The Best FREE Things to do in Monterey CA

Traveling to Monterey with kids? Then don't leave them bored on the drive over. Get your daughter or even yourself that Pink New 3DS

Did I Miss Something?

Help me help others enjoy Monterey to the fullest!

Send me a quick line about your favorite things to do at the Monterey Aquarium! Pics and Vids fully welcome

Share your Monterey Aquarium Tips

Or just leave a quick comment below!!!

Other Monterey Articles that You May be Interested in: