"The Best Things in Life Are Free" Holds a Lot of Truth Here in Monterey CA!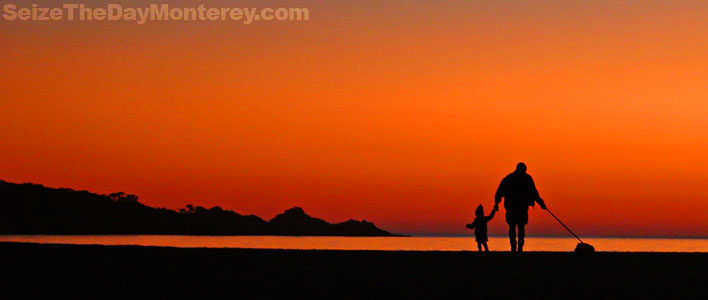 Some of the big attractions here in Monterey California such as the Monterey Bay Aquarium have a steep ticket price (well-worth it though).
The old saying "The Best Things in Life are Free" holds a lot of truth in here Monterey California. Although it sounds cliche, it is actually the truth.
What could be better than walking the beach with the people you love the most while the sun is setting?
The items below are some of the best FREE things that my family and I enjoy on a continual basis year in and year out in Monterey.
If you know of any Great Free Things here in Monterey, please let me know by leaving a comment at the bottom of the page and I'll add it to the list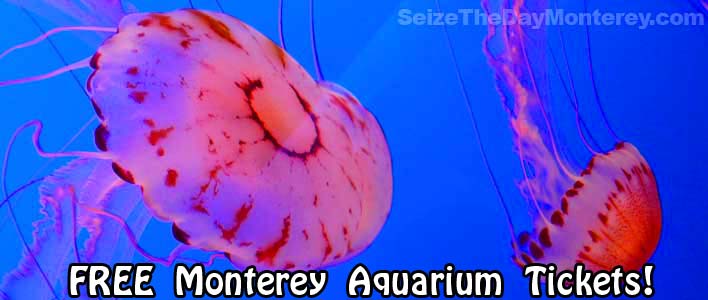 FREE Monterey Bay Aquarium Tickets!
I know this sounds too good to be true, but it's not!
There are a number of ways of getting into one of the top ten aquatic aquariums in the WORLD for FREE!
Matter of fact, you can get 6 free Monterey Bay Aquarium Tickets at local Monterey County Libraries.
Not to mention a number of ways of getting a Monterey Bay Aquarium Discount or a Monterey Bay Aquarium Coupon or FREE Monterey Bay Aquarium Tickets.
If you can't get your tickets for free, then you probably could get a Monterey Bay Aquarium Discount or even a coupon that could save you a few bucks 😀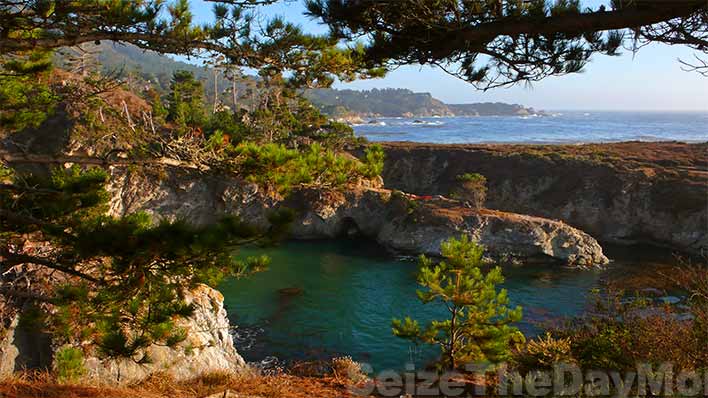 Get into Point Lobos State Reserve for FREE!
Driving into Point Lobos will cost you $10 per vehicle.
Parking on the dirt shoulder off of Highway 1 and walking in is completely FREE and legal.
Park right across from the main entrance and carefully cross Highway 1.
The drawback is that you'll have to hike to all of the scenic spots instead of driving.
But if you're there for a hike anyways then no problem. There's a reason Point Lobos State Reserve is one of our Top Recommended things to do in Monterey. It is simply breathtaking and a cannot miss.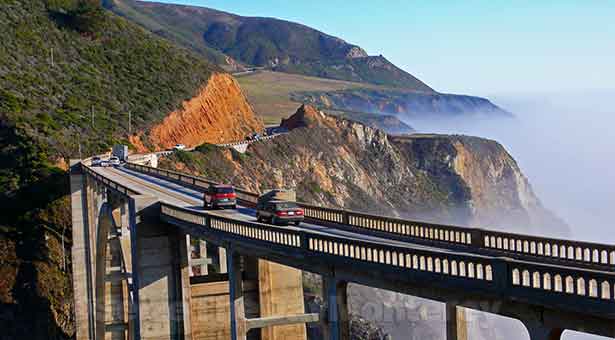 One of the areas biggest and worldly renowned attractions is FREE! Highway 1 is consistently named one of the world's most scenic drives in the world! I spent the better part of 2 years filming along coastal Highway 1 and loved every minute of it!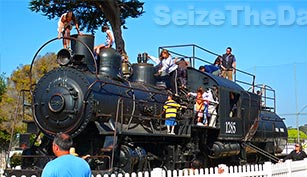 Dennis the Menace Park
Jammed packed with giant slides, a suspension bridge, a hedge maze, a full size Historical Steam Engine Locomotive to explore, and more.
Take a break from sightseeing and let the kids run free for an hour or so, they'll love you for it!
See Monterey Kids Fun for more Ideas.

Free Chocolate Sample at See's Candies
You'll receive a free "sample of the day" upon entry into the See's Candies located at the Del Monte Shopping Center.
Chances are you'll end up spending money, they're that good! We have them shipped all over the country as Christmas Gifts each year.
Free Clam Chowder On Old Fishermans Wharf
Many of the restaurants on the Wharf hand out free samples of their clam chowder to entice you to dine in. I'd say it actually works 😉
Our favorite clam chowder in the world is available on the Wharf at The Old Fisherman's Grotto
Walk from Old Fisherman's Wharf to Cannery Row

A great leisurely walk along the Monterey Recreational Trail will do you wonders, especially after a large meal at the Wharf. You'll see Harbor Seals, Sea Lions, Sea Otters, the gorgeous coastline, and more all the while taking in fresh ocean air.
We usually take this walk after eating too much at our favorite restaurant Old Fishermans Grotto. By the time we get to Cannery Row (less than a mile from Fisherman's Wharf), it's time for dessert at Ghirardelli!
Point Pinos Lighthouse Tour
The Point Pinos Lighthouse is the oldest continuously operating lighthouse on the west coast.
It's a nice historical tour through the lighthouse which is pretty neat! Tours are Thursday thru Sundays, 1-4pm.
Year Round Festivals In Monterey CA
Monterey is known for its diverse and numerous Festivals that occur year round. Most of them are free and more than worth checking out.
Spectacular Monterey Sunsets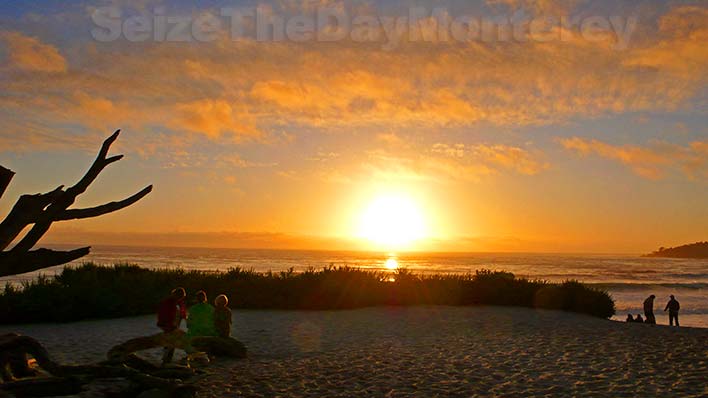 One of the best free things to do in Monterey California is to enjoy a beautiful sunset with those that you love. It costs nothing but refreshes the mind and spirit like nothing else.

Sea Lions at the Coast Guard Pier
A good number of Sea Lions love to bask in the sun at the end of the Coast Guard Pier along with Black Cormants. You'll get great views of San Carlos Beach, Cannery Row, and scuba divers from the pier as well.
Just walk down as far as the pier will take you for great views of Sea Lions.

George's Birds on Fishermans Wharf
George's Birds are a lot of fun. The kids and adults will get to pet and hold one of the many of his exotic parakeets.
Monarch Butterfly Grove Sanctuary in PG
1000's of Monarch Butterflies migrate to Pacific Grove for the winter every year.
It is just magical to see so many Monarch Butterflies all in one place at once.
They're in Pacific Grove for the winter from October thru March.
My absolute favorite place to watch Sea Otters is at the Moss Landing Harbor. It is truly an up close and personal experience.
Here you will find often times 10-15 Sea Otters frolicking, gathering food, or just rafting (resting) in the harbor and often in 1-2 large groups.
All within a comfortable viewing distance! Find out where to find the Secret Sea Otter Hangout.

Free Sample at Ghirardelli on Cannery Row
When you're down on Cannery Row, stop by Ghirardelli for a free chocolate sample. If the sample isn't enough, their ice cream parlor is unbelievable!
Grab a seat at their outdoor seating area which has a beach view!
Beach Walks and Picnics in Monterey, CA
Monterey has some of the most enchanting beaches in California.
Build a sand castle, race the surf (and each other!), fly a kite, watch hang gliders soar, have a romantic walk during sunset, or just meditate to the sights and sounds of the Monterey Bay.

Free Downtown Trolley
Children five and under will get a kick out of riding the old town style trolley. It goes from Downtown Monterey to Fisherman's Wharf, down to the Monterey Bay Aquarium and back.
This can be a back saver for parent's who forgot the stroller! Available only during the summer months of May 24 thru September 1 and on major holidays.

Whale Watching from Shore
You can spot Grey whales migrating along the coast on one of the many turn out vista points along Highway 1.
Point Lobos is where I usually go for spotting whales from shore. Watching Gray Whales swim just feet away from Kayakers is just amazing! Grey Whale migration occurs December thru March every year.
You can see this famous Grey Whale Mural (pictured left) at the beginning of Cannery Row near San Carlos Beach.

Tidepooling in Monterey
Explore one of the richest tidepooling Monterey habitats in the world! That's right; Point Pinos or "The Great Tide Pool" is yours for the exploring.
My boys love the hermit crabs and their colorful shells.
Please, do not take anything from these precious ecosystems, it is against the law and is finable.
Free parking is a scarce thing in Monterey, but it does exist. Find out where you can Get Free Parking.
Help me help others enjoy Monterey to the fullest!
Send me a quick writeup of your favorite free things here in the Monterey Bay! Pics and Vids fully welcome

Or just leave a quick comment below!!!
Other Monterey Articles that You May be Interested in: