A Meal, a Show, and Spectacular Views of Monterey CA is Hard to Beat!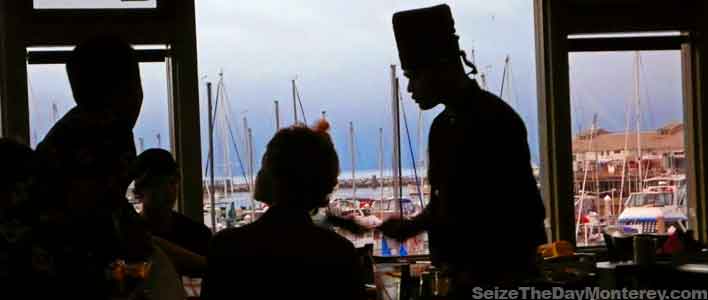 Sopporo has to be one of our favorite restaurants in Monterey, CA!
Not only do you get a fantastic Japanese meal that is beyond filling, but you get a spectacular show filled with Volcanoes, Fireworks, ChooChoo Trains, Breakdancing Eggs, and all of this before you even take one bite of your meal at this Monterey Restaurant!
The views are choice as you are on the second floor. On one side you have a great view of Wharf #2 and Monterey Beach, on the other you have the Marina and Downtown Monterey.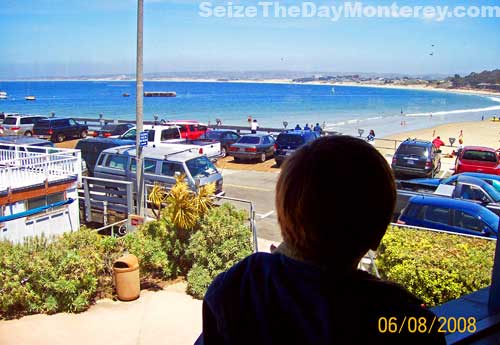 Great Views of Monterey Beach Can Be Had While Dining At Sopporo
The Master Samurai Chefs cook right in front of you
They know their craft and have a great sense of humor as well. Whenever we go, children and adults alike seem to laugh together in a childlike wonder, myself included!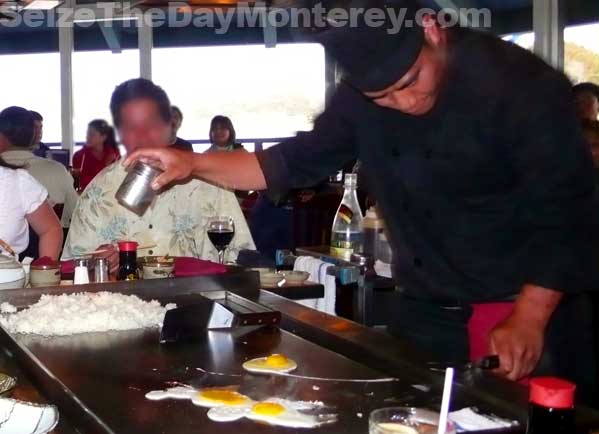 The Master Samurai Chefs Cook Right In Front of You!
Sopporo is Great for the Kids
There will be many oohs and awes from the young ones. If they're younger than 5 hold them back a little in the beginning as the initial fire flare up may scare them a little.




You'll know when this is going to happen by the spreading of oil on the grill when the chef first arrives. It's harmless though. Our youngest had a little cryfest on his first visit, but this soon passed as the Master Chef worked his magic.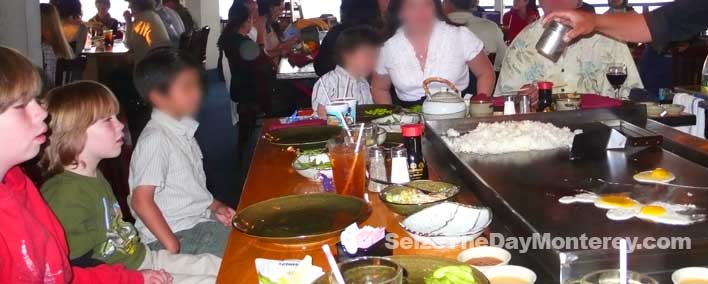 Sopporo is Perfect for Large Groups
Each Hibachi Grill Table can seat 10 comfortably. If your party is more than 10 Sopporo can accomadate you as well by seating you at two connecting tables where you'll have 2 different Samarai Chefs.
They can just as easily accommodate smaller parties for the Hibachi Tables as well. You'll be seated with others for the show but this is no big deal as in no time you'll be mesmerized by both the show and savory food. If you're one of the first to be seated at a table, expect a short wait for other patrons, usually no more than 10 minutes.
The fun is at the tables, but if you want to enjoy the great food in a more private setting, there is regular seating near the sushi bar. Be forewarned though, they only serve the steak at the Hibachi Tables, a serious downside in my opinion.
The Best Free Things in Monterey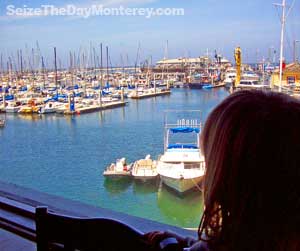 My favorite has to be the Filet Mignon Steak dinner. Although it is $5 more than the hibachi steak, it is so worth it!
My wife asks for extra mushrooms along with the steaks being cooked in Teriyaki sauce, I usually request the same. For appetizers we never pass on the goyza and edamame.
Occasionally I'll have a Sopporo beer, a good beer that comes in just the right size, 20oz.
Meals come with:
Miso Soup (My wife's favorite)
Salad
Fried or Steamed Rice (Fried rice all the way for us!)
Vegetables
Shrimp (soooo good!)
Entree
Prices are reasonable and comparable to most other Restaurants in Monterey, but with the added show, you're really getting a lot of bang for your buck!
Perfect for Birthdays
If you really want to show someone how much you love them, ask for the birthday package and embarrass them, trust me, they'll love it.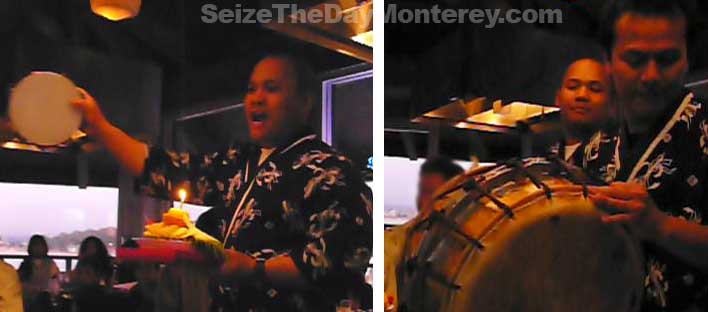 This is no ordinary dry Happy Birthday song that you get everywhere else. This is the full on, bring out the drum and really get down celebration that lasts for a good couple of minutes. A great way to make someone feel special and it's just a lot of fun.
The package includes a birthday Pineapple dessert, a group photo, and very nice souvenir chopstick set. Cost is usually $10, well worth it to embarrass that special somebody 😉
Sopporo and the Tab
Sopporo will not break the bank. Matter of fact for the quality of food, the excellent show, the spectacular view, and the great time had by all, I believe it to be well worth the money. I'd ballpark it at $30 or so per person after tax and tip but then again I usually tip 20%-30% so your mileage may vary. Kids will be cheaper of course, around $15.
Some Tips on Dining at Sopporo
You'll Have to Pay for Parking

Unless it's after 8:00pm. There are no longer meters but an ATM like booth where you walk to and purchase your parking pass. It accepts cash of course but also credit cards! I would get at least 80 minutes. You dont' want to chance a $30 ticket.

Sopporo is Great for Families!

but embrace the young ones (under 5) during the beginning fiery flare up. You'll know it's coming when the chef spreads oil on the cooking table. After that it's smooth sailing for the little ones. They'll be all smiles. The Best Pizza in Monterey

Grab Lunch and Save a Grip of $$$!

The lunch menu is almost literally half the price of the dinner menu and it is still fantastic. You still get a show with great food but there is just less of it. For those with huge appetites you can still order the dinner item along with everyone else's lunch!

Great For Birthdays!

Whether it's for just two or twenty. Embarrass the birthday boy/girl by getting the birthday package which includes the full on drum and tamborine Birthday song, pineapple dessert for the birthday boy/girl, a group photo, and a very nice souvenir chopstick set.

Make Reservations for Large Parties

(Sopporo Phone: 831-333-1616).

It Can Get Loud

Especially at the Hibachi Tables with birthday celebrations, clanging of cooking utensils, fiery flareups, etc. so if you're looking for a quiet dinner, get a regular table or go elsewhere.

One night I counted 5 birthday celebrations with Song and Drums and all. It was a blast!

Sopporo or Beni Hanna's?

There is a Beni Hanna's just down the street but we always go to Sopporo. Why? We just have a better time at Sopporo. The food is better, the portions are bigger, the Chefs seem more entertaining, there's a view, and the tab is cheaper.


There's nothing like a peaceful stroll on the Beach after a tremendous meal at Sopporo.

If not the beach then walk down to Fisherman's Wharf or better yet the Scenic Coastal Trail.

Sopporo Japanese Steakhouse Hours, Address, and Phone Number:

3 Fishermans Wharf 2, Monterey, CA 93940-2450
Phone Number: 831-333-1616
Hours: 11:30-10p Sun-Thurs, 11:30-10:30p Fri & Sat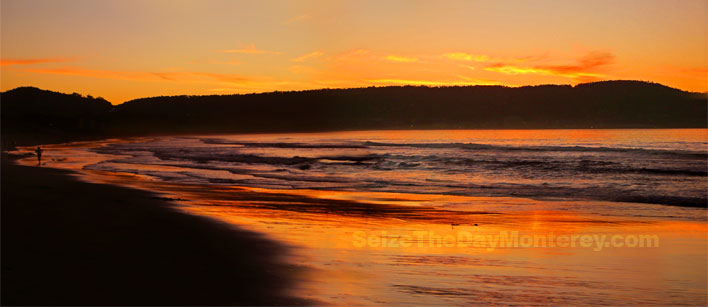 Catch a Gorgeous Monterey Sunset after Your Meal at Sopporo!
Getting to Sopporo
Sopporo is located at the beginning of Wharf #2, on the top floor. From Old Fisherman's Wharf it is just a 5 minute walk if that. Veer to your left as you exit the Wharf and follow the sidewalk along the Marina. Sopporo is straight ahead.
From Highway 1: Take Del Monte Blvd exit. Follow the signs to Old Fisherman's Wharf. There will be adequate paid parking available to your right.
3 Fishermans Wharf 2, Monterey, CA
Phone Number: 831-333-1616
Help me help others enjoy Monterey to the fullest!
Send me a quick line or review of your favorite Monterey Restaurant! Pics and Vids fully welcome

Or just leave a quick comment below!!!
Other Monterey Articles that You May be Interested in: