An Absolute must for both Visitors and Locals of Monterey California!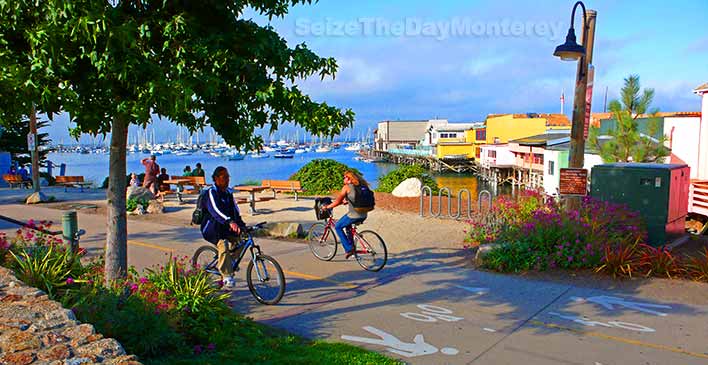 Monterey Bay Recreational Trail: One of the best ways to get a feel for Monterey California!
Take a nice leisurely stroll or bike ride on the scenic recreational trail.
It's an easy walk and the sights are gorgeous and plentiful.




There are plenty of small beaches, restaurants, and shops to stop off at while on your walking tour.
I'd recommend starting your walk right after checking out Fisherman's Wharf. Set aside at least 20-30 minutes to stroll down Fishermans Wharf. More if you're into gift shops and/or watching wildlife. There is a small deck where 10-20 Sea Lions love to sun bath down near the whale watching docks are located.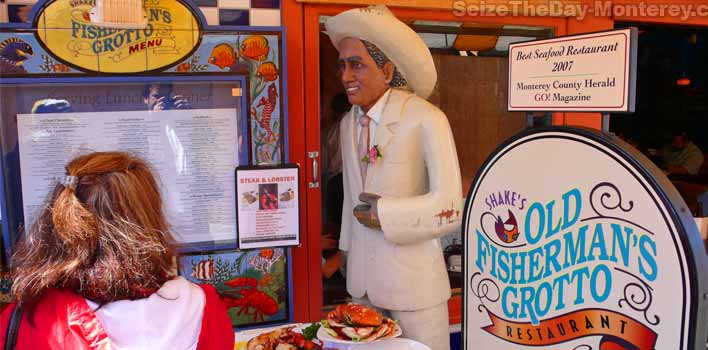 If it's lunch time grab some grub at our favorite Monterey Restaurant The Old Fisherman's Grotto first.
Then hit the recreational trail immediately to your right as you exit the Wharf.
Cannery Row, The Purple Carpet, and Breakfast Oh My!!!
Following this trail will lead you to Cannery Row, the Monterey Aquarium, and the Purple Carpet of Pacific Grove (seasonal) if you walk far enough.




The walk to Cannery Row is about 10-15 minutes from the Wharf but count on it taking longer as you'll surely stop to admire the numerous site seeing spots. Take your time and enjoy the views. Relax and just enjoy the fresh marine air and coastal views.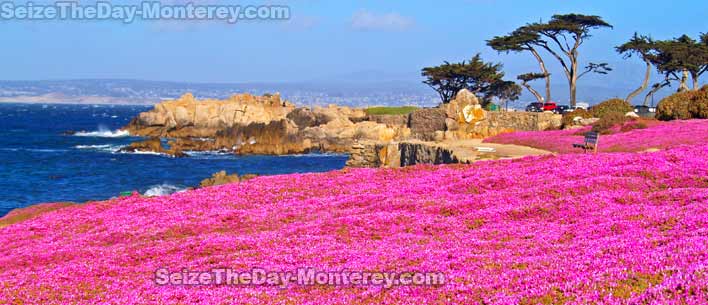 The Purple Carpet in Pacific Grove is a Sight to Behold in May. It's Just off of the Recreational Trail
The trail actually by-passes Cannery Row so just be on the lookout for the Cannery Row cross street and take that down one block.
You'll know it when you see the huge Gray Whale Mural. From there you can cruise through Cannery Row and straight up to The Monterey Aquarium.
From there you'll easily pick back up on the recreational trail which will lead you into Pacific Grove.




My sons and I enjoy riding our bikes on the recreational trail on weekends.
We make a morning out of enjoying the fresh air, the views, the aromas, and most importantly, each other's company. The exercise is great as well 😀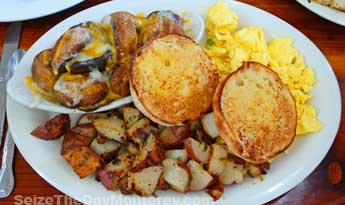 />
Mushroom Caps at First Awakenings
Just Off the Recreational Trail!
Then we stop off at our favorite breakfast spot:
First Awakenings located right across the street from the Monterey Bay Aquarium.
I highly recommend the mushroom caps, a family favorite, as well as the Teriyaki Chicken sandwich for lunch. Learn more about First Awakenings.
If you're biking, be sure to have your bike lock handy.
When renting bikes or a Surrey
Be sure to ask for a complimentary lock, this will allow you to stop for a snack, shopping, or whatever it may be.
I highly recommend Adventures by the Sea for bike rentals as well as renting a four-wheel Surrey, it is a blast for the entire family!
They have convenient loactions and reasonable rates, usually $20/hr for Surrey, and $7/hr for bikes.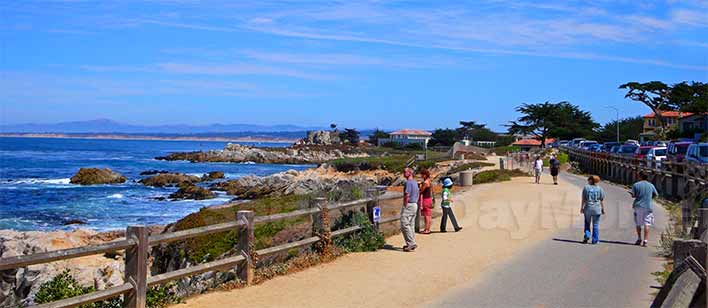 Following the path will take you on an enchanted tour of what Monterey is all about:
It will lead you past historic Cannery Row, (stop for ice-cream at Ghirardelli, as well as some great shops
Pacific Grove is just around the corner from the Montery Aquarium (literally) and just past the Hopkin's Research facility there is a stretch of beach where seals and sea lions bask, pull over to take a look if you like. It will be just past the American Tin Cannery Mall.
Lover's Point Beach is a very popular beach with volleyball, kayak rentals, surfing, and more. It's a great place for the kids to play in the water as the water is usually very calm here.
Some Recreational Trail Usage Tips:
Stay to the right, if you have young ones, this is especially important
Walkers, joggers, bicyclists, are welcome
When passing, stating "on your left" tells others you are passing to help avoid collisions.
Look both ways when crossing street intersections

Check out San Carlos Beach

It's one of the most accesible and best beaches to stop at off of the recreational trail. A great spot to enjoy the great views, spot sea lions, watch the scuba divers, and tidepool when the tide is low. It can be easy to miss as it's right before Cannery Row.

If you're at the beginning of Cannery Row (near the whale mural) just turn around and walk 3-4 minutes.

Take your time, stop at one of the many benches and just relax and take in the views.

There is so much to see. My wife and I had our very first kiss at one of these benches!

So take your time and experience Monterey. It's just a magical place by any measure.
Help me help others enjoy Monterey to the fullest!
Send me a quick line about your favorite Monterey experiences, hotels, restaurants, beaches, etc. Pics and Vids fully welcome

Or just leave a quick comment below!!!
Other Monterey Articles that You May be Interested in: