Golf Monterey and her finest at the World Famous Pebble Beach Golf Course!

The Pebble Beach golf course is probably the most coveted of all the Monterey golf courses.
Matter of fact, it is one of the most coveted of all golf courses period!
Every year people flock to Pebble Beach California to witness the Pros take on this tremendous course.
The Pebble Beach Pro Am adds even more excitement as the top Pros along with Celebrities and Musicians battle it out for a sizable purse (we're talking millions here!).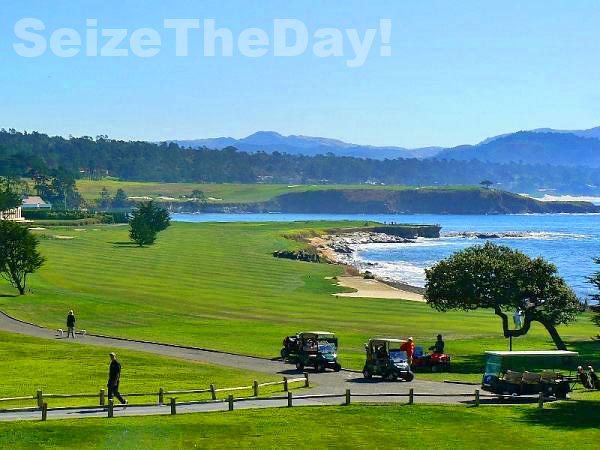 Do you love playing golf with a Breathtaking Coastal Backdrop?
Then A Pebble beach golf vacation is what you want! Find yourself at a Pebble Beach Golf Resort and find yourself in a golfer's utopia!
You simply cannot go wrong with either The Lodge at Pebble Beach, The Inn at Spanish Bay, or Casa Palmero. All located on the premises.
Prices will be steep at this premiere Golf Resort though. Pebble Beach green fees will be at a premium and Pebble Beach lodging will set you back some serious greenbacks as well.
If this is just a little too rich for your blood (join the club!) then you can save quite a bit of money by simply staying at a number of hotels near Pebble Beach and using that money towards your green fees.
Don't let these prices scare you away from enjoying one of many of Monterey golf courses.
There are a number of great courses that are more reasonably priced in the area. Bayonet/Blackhorse being one of the most affordable ones.
Help me help others enjoy Monterey to the fullest!
Send me a quick line about your favorite Golf Course here in Monterey! Pics and Vids fully welcome

Or just leave a quick comment below!!!
Other Monterey Articles that you may be interested in: