We Probably Eat at International Cuisine more than all the other Monterey Restaurants!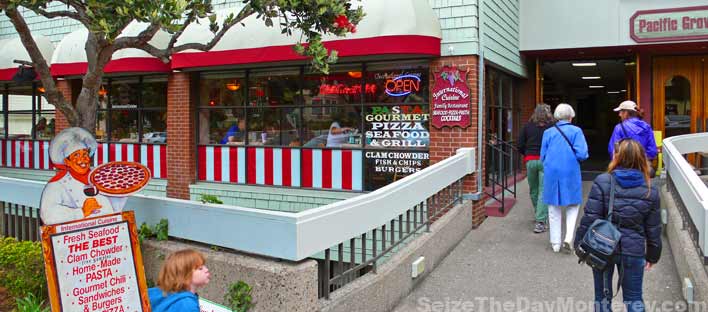 Are you looking for excellent food in a relaxed atmosphere that is downright affordable?

Then be sure to check out International Cuisine down on Lighthouse Ave in Pacific Grove.
It's just a 5 minute drive from the Monterey Aquarium.
We've come to LOVE International Cuisine (formerly Chili Great Chili) by accident.
We were at the weekly Monterey Farmers' Market years ago when we had our first Gyro from International Cuisine's booth and we were immediately in love.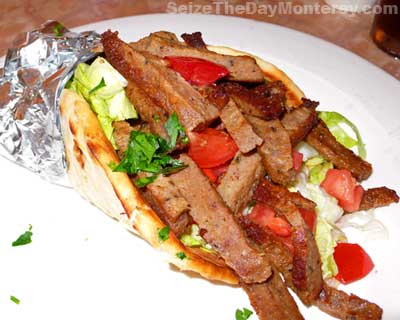 We Fell In Love with International Cuisine because of their Gyros!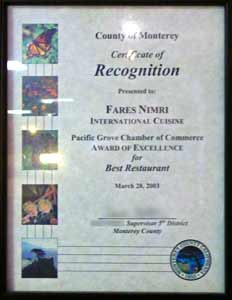 Best Restaurant in Pacific Grove 2003!
The very casual dining experience along with their service was so good that we stopped getting Gyros at the Farmers' Market altogether and just dine in at the restaurant instead!
Fast forward a decade, and now our 8 year old often picks International Cuisine for lunch when it's his turn to decide!
They have a great selection of, you guessed it, International Cuisines ranging from Greek, Russian, Italian, British, German, and Mexican food.
They also have traditional "American" cuisines as well such a N.Y. Style Pizzas, Burgers, and Salads.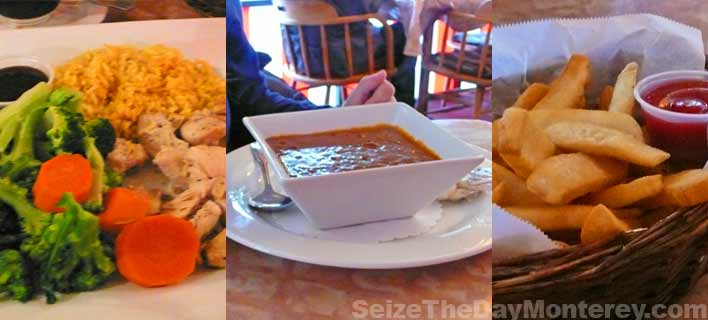 Gyros Aren't The Only Thing International Cuisine is Known For! Their Chili is Quite Good!
Our family favorites include the Gyros (of course!), chili, chicken kabobs, cheese pizza, and the scrumptious basket of french fries (our 3 year old's favorite). The Clam Chowder is excellent as well, second only to the Old Fishermans Grotto in my humble opinion!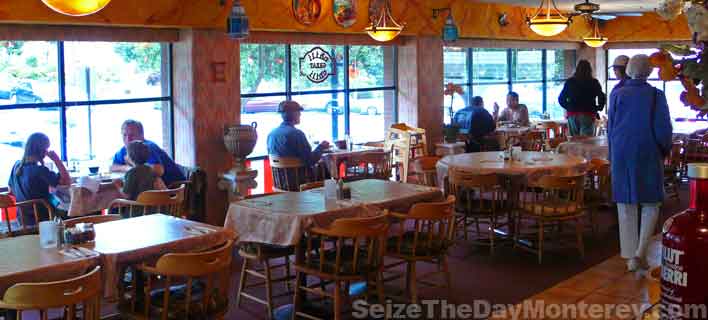 The restaurant is family owned and it shows as we feel like family on every single visit! The owners never fail to remember us, commenting on how our boys are getting so big, and often asking how our extended family is doing. You'll get seated right away even though the place is usually packed. If there is a wait it usually is for no more than 5 minutes.
Prices are very reasonable. We tend to spend $30-$40 for the two of us after tip.
The Best Free Things in Monterey
Some Useful Tips for Dining at International Cuisine:
Get a Gyro
It's what got us hooked to begin with. A basket of fries and a cup of Chili compliment their Lamb Gyros very nicely 😉
Great Clam Chowder!
International Cuisine's Clam Chowder is second only to The Old Fisherman's Grotto in our opinion. Try a cup, it's delicious.
Save Money With Restaurant.com
Restaurant.com sells gift cards to select restaurants for quite a discount. You can buy a $10 Gift Certificate for $4. That's a 60% savings! You can even get multiple certificates as well but these certificates only apply after the first $20 of your tab. Still a great savings though.
Convenient and Free Parking
Parking can easily be found right in front of the restaurant on Lighthouse Ave. You'll know you've found the place when you spot the red and white stripes.
Casual and Very Kid Friendly

Come as you are and bring the kids! International Cuisine is very Family oriented as they themselves are Family owned. And Yes they do have Cheese Pizza!
They Have Both International and "Americana" Cuisines
From Russian Beef Stroganoff to Greek Gyros to N.Y. Style Pizza and Burgers, they've got your entire party's taste-buds covered!
Lunch Specials for $7.95
The Lunch Special includes an entree, a salad, and a dessert. Monday thru Fri only though.
Cheesecake!

Bathroom Location isn't the Best
The bathroom isn't located in the restaurant. It's just a quick 1 minute walk within the same building though. Ask for a key at the counter.
No Ocean Views Here

Caledonia Park which is a nice fenced in playground that most children 7 and under will enjoy. A great place to let the young ones unwind after or before a great meal. It also serves as a great refuge for Dads when shopping is on the agenda 😉
International Cuisine Address and Phone Number
620 Lighthouse Ave
Pacific Grove, CA 93950
831-646-0447
Help me help others enjoy Monterey to the fullest!
Send me a quick line or review of your favorite Monterey Restaurant! Pics and Vids fully welcome

Or just leave a quick comment below!!!
Other Monterey Articles that You May be Interested in: