One of the Best Monterey Restaurants Can Be Found Down on Cannery Row!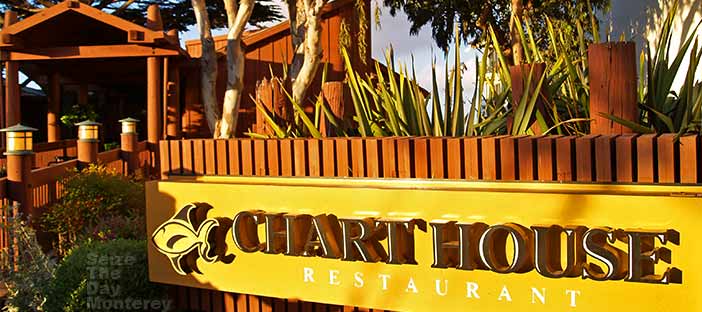 Are you looking for a fantastic meal with ambiance and a great view of Monterey CA to match?
Then The Chart House is the Monterey Restaurant you simply cannot miss.
We've celebrated a number of Anniversaries here for its romantic atmosphere, outstanding food, and unbelievable views.
And did I mention the view?!? You truly get a Dinner and a Show at the Chart House!
You'll find it hard not to be entranced by the beauty of the Monterey Bay. Be on the lookout for Sea Otters, Sea Lions, and Pelicans diving for fish! Views of the Monterey Bay during a sunset are fantastic! Add in great food and what could be better 😀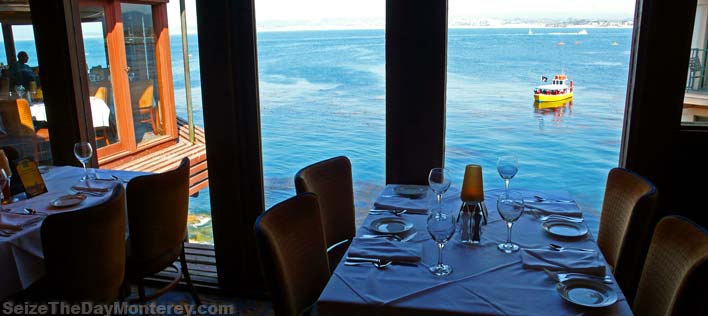 The View of the Monterey Bay from the Chart House is Spectacular! Call ahead to get a window seat.
"So the view is great but what about the food?" is what you're probably asking right about now.




Well in a word "Heavenly"! The food is top notch, for both Steaks and Seafood!
And the salad bar is simply incredible! Probably the best I've ever seen. It has just about anything you could possibly want in a salad, including caviar!
Our favorites include the Crab Cakes Appetizer, the Filet Mignon, Sautéed Mushrooms! The Steaks At The Chart House are Simply Amazing! And for dessert the Hot Chocolate Lava Cake is beyond recommended! It's so good, it takes 30 minutes just to prepare it 😀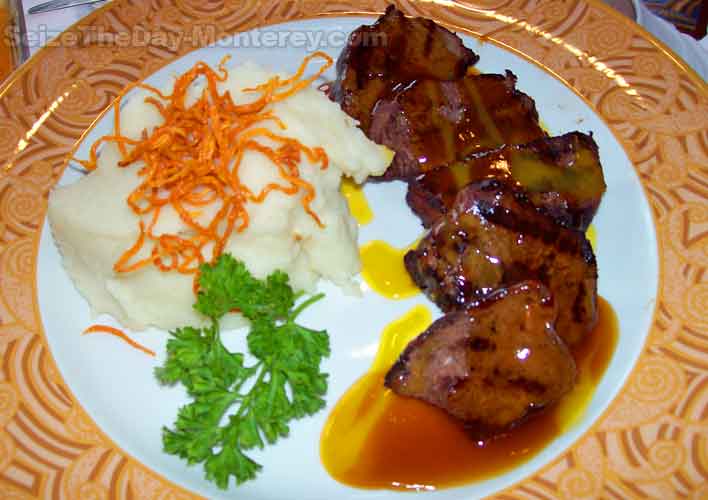 If you eat at the Chart House you cannot miss the best part:
The Hot Chocolate Lava Cake dessert!
It is that goo!. Just remember to order it about half an hour before you'll be ready for dessert as it takes time to prepare.
We usually just order it when we order our meal because it's easy to get wrapped up in the entree that you forget about ordering dessert 😉
Just let your waiter know and you'll be good to go. The Hot Chocolate Lava Cake is so good here at the Chart House that we sometimes skip dinner altogether and just get the cake! I'm not kidding. And every now and again, we get it take out and eat it at home!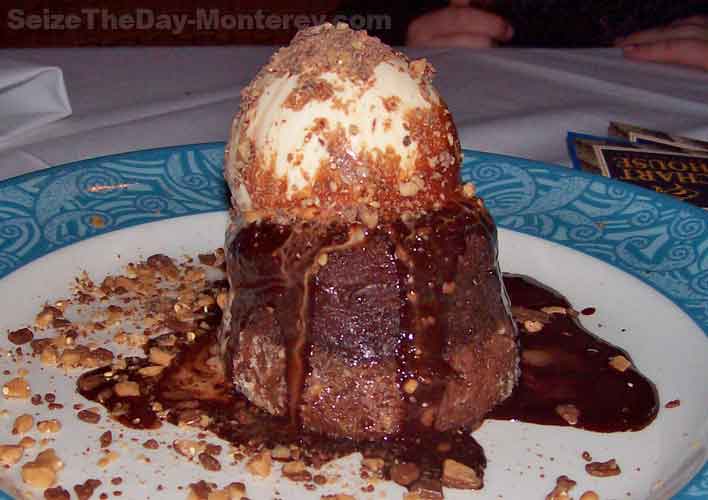 So Will The Chart House Break the Bank?
Absolutely not. The Chart House is maybe a little more than your typical bill at most Monterey Restaurants. We usually spend $80-$100 for the two of us, including tip which is on the pricey side but what you get for the money makes it hard to beat. Figure a little more if you get Wine.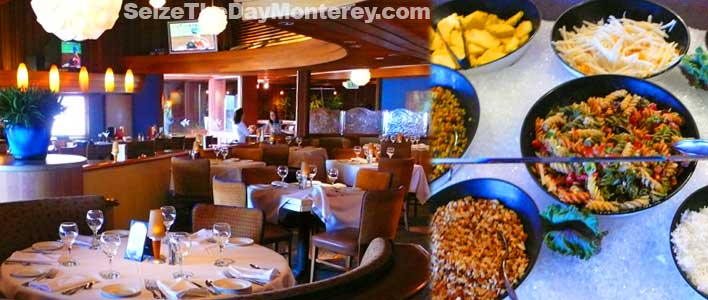 Some Useful Tips for Dining at The Chart House:
Dine In the Early Evening

There is nothing like taking in a gorgeous sunset while fine dining with those that
you love most, nothing!

Make Reservations

The Chart House on Cannery Row in Monterey, California is where many locals dine in addition to the tourists, so it is usually busy. Make your reservation well in advance and be on time. Even at 5:00 in late July the Chart House is already jammed packed. I had reservations for 5:15 and we still had to wait for 10 minutes so be sure and have reservations. If you show up without reservations, they may say come back after 8:00 in which case you'll have some extra time to explore Cannery Row. 831-372-3362
Free Parking!

There is a small free parking lot right across from the restaurant. It is often full so bring change to feed the meter just in case. If you don't have change and need to feed the meter, you can get change at the Chart House's Bar. Make plans to arrive a few minutes before your reservation to find parking.
Custom Menus for Special Occasions

Be sure to mention your special occasion (Anniversary, Birthday, etc.) when making reservations. They'll print up a special menu for you which will make the evening all the more special. They'll even wrap it up in a nice ribbon if you want to take it home.
| | |
| --- | --- |
| | |
Get the Hot Chocolate Lava Cake!

For dessert you must have the Hot Chocolate Lava Cake. It's a brownie cake topped with vanilla ice cream with Godiva Chocolate Liqueur. One may be enough if it's just for 2 but count on getting at least 2 if either you got the kids or somebody is a serious chocolate fiend.


Take note that it takes 30 minutes to prepare so you'll have to order it in advance. To be on the safe side, we just let the server know when we order our dinner. We usually share as there's usually not much room left by the time it arrives, your mileage may vary 😉

Dress is Semi-Formal

There's no Restaurant dress code but you may feel underdressed in a t-shirt and flip-flops. I recommend collared shirts for guys or as they say on their website, Smart Casual whatever that means. Jeans are fine as well but I wouldn't recommend Def Leppard Jeans though 😉

Be on the Lookout!

Keep your eyes peeled for Sea Otters, Sea Lions, fish diving Pelicans, Kayakers and more while dining and gazing at the gorgeous Monterey Bay view.

Grab Lunch at the Chart House!

Lunch is only available during the Summer on Weekends from 1:00-4:00. Chances are that's when you'll be visiting Monterey California anyways so if you want to save some money or just want a great lunch check them out on the weekends between Memorial Day and Labor Day (End of May thru beginning of September). Note though that the menu and prices are the same as the dinner menu but there is a "Lunch Special" menu with select items that are a little cheaper.

Great For The Kids Too!

The kids will love the view and the food too! The kids' portions are hefty and filling so you may have take home. And be sure to get them their own Chocolate Lava Cake to share 😉

They can accomadate large parties.

Call ahead. 831-372-3362

They have a To-Go Menu

The way they package the hot lava cake dessert it makes it almost as good as eating it at the Restaurant. We once had 1 cake and felt like we needed another, so we got it to go. Double Score!!!

On our Anniversaries

we have often received a FREE slice of Mud Pie for dessert. Of course this is an unsaid thing, but it sure is nice when it does happen 😉
The Monterey Chart House Address and Phone Number

444 Cannery Row
Monterey, CA 93940
831-372-3362
Help me help others enjoy Monterey to the fullest!
Send me a quick line or review of your favorite Monterey Restaurant! Pics and Vids fully welcome

Or just leave a quick comment below!!!
Other Monterey Articles that You May be Interested in: