Don't Miss These Big Sur Beaches When You're In Big Sur, CA. Life is a Big Sur Beach!

When in Big Sur California, it is beyond easy to become mesmerized by the glorious coastline, but wait until you get up close with it!
It is even more beautiful when you're in the middle of it on one of the majestic Big Sur beaches herself!
You truly feel like you are experiencing Big Sur and not just looking at her!!!
Pfeiffer Beach is an absolute MUST! Even if you just stop by for an hour, that hour will be well spent and not regretted. Pfeiffer Beach is a site to behold and a place to experience.
If you only visit one Big Sur beach here in California be sure it is Pfeiffer Beach!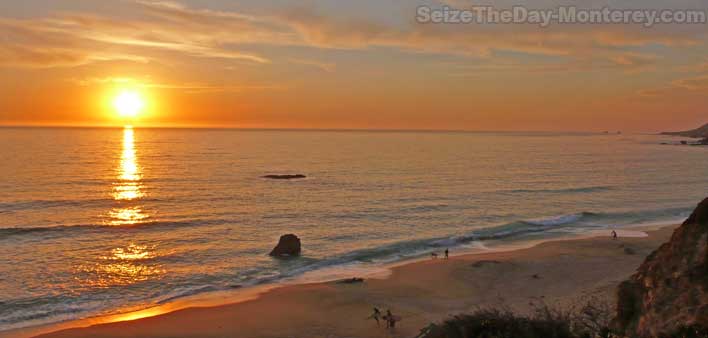 But if you have time for a few beaches, then check out my Big Sur California Beach list below.
There are a few you just simply cannot miss.
Be forewarned though, unlike Monterey or Carmel beaches, Big Sur Beaches are often times a little off the beaten path.
It may take a little bit more driving and in many cases a little bit, if not a lot of hiking.
But this all part of Big Sur's allure and although it sounds cliche, it's about the journey and not the destination so enjoy the ride! The best Big Sur Beach in my opinion is Pfeiffer Beach (pictured below) but it is an hour+ drive from Monterey without stops.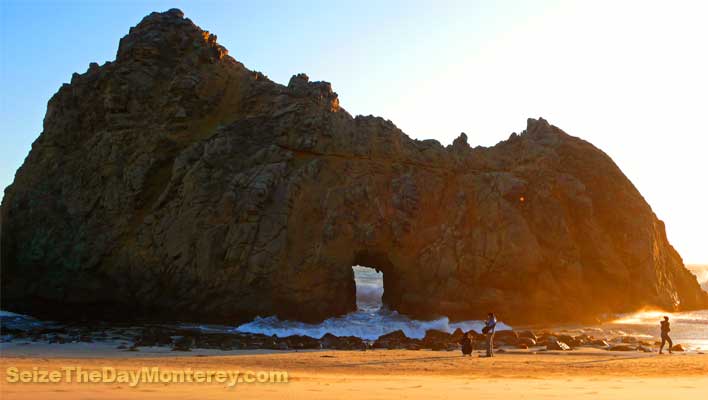 Big Sur Beaches You Cannot Miss (in Order):
Big Sur Beach #1: Pfeiffer Beach:
If you only see one of all the Big Sur Beaches, make sure it's Pfeiffer Beach. It is simply breathtaking being able to stroll along a sandy beach where the Santa Lucia Mountains envelop the sandy beach and yourself!



There is simply so much to experience here it's hard to put into words. From the famous "Rock Arch" to Purple Beach Sand patterns, to being one of the best spots to catch a Big Sur California Sunset. But the turnoff from Highway 1 for Pfeiffer Beach can be easy to miss which in many ways keeps this Big Sur gem a secret from the masses. Pfeiffer Beach is also a good hour+ South of Monterey.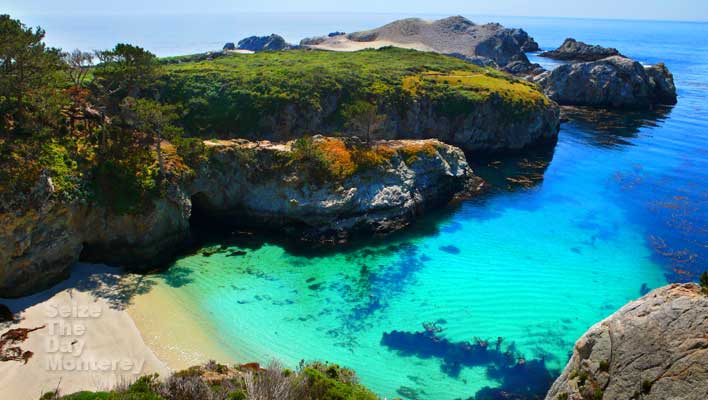 Big Sur Beaches #2: Point Lobos Beaches:
Point Lobos is on my shortlist for best spots in Big Sur California and all of Monterey for a reason, it is simply breathtaking. It's hard to believe so much beauty can be located in one spot all at the same time! And her beaches don't disappoint either!
There are a number of gorgeous Big Sur beaches at Point Lobos but most notable is China Cove Beach. China Cove Beach, although small is something of the movies.
The cove itself has a turquoise coloring and clarity that cannot be found anywhere else in Big Sur California. And the best part is that you have access to the beach, with exception to mid March thru April because the seals are pupping.
$10 Entrance Fee per Vehicle or FREE!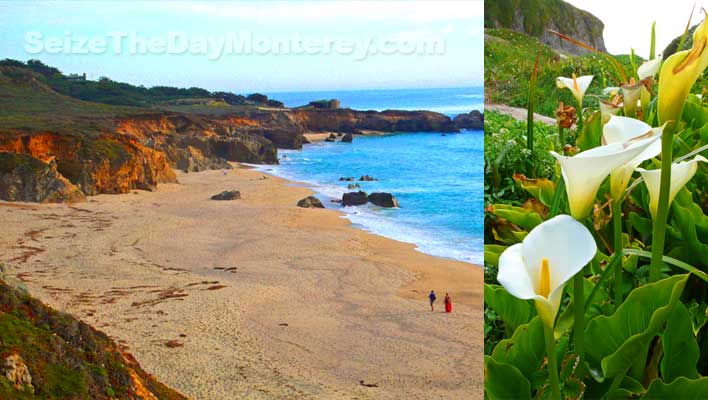 Big Sur Beaches #3: Garrapata Beach:
Garrapata Beach is just a short five minute hike from the shoulder parking right off of Highway 1 which makes it a great accessible Big Sur beach without a fee.
A very quick drive if you're coming from the Monterey or Carmel area as Garrapata Beach is located at the northern end of Big Sur California.
There's more than plenty to see and do at Garrapata Beach.
There is a great bluff trail that will give you great beach and coastal views along with a small canyon to explore where Calla Lillies bloom by the hundreds! The beach itself gives you a closeup look at the ocean meeting the Big Sur coastline and is a joy to walk hand in hand with the ones you love.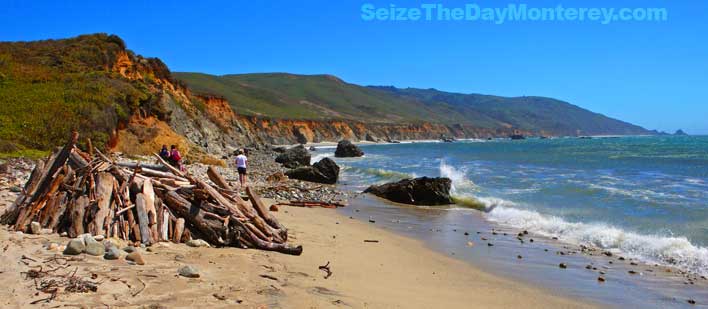 Would you like to go Horseback riding on a gorgeous Big Sur Beach? Or would you like to take an easy 2 mile hike to a great beach that you have a good chance at having all to yourself? Then Andrew Molera State Beach is where you want to go! If you're not much for hiking, skip this one.
State Park fees will be $10 for parking but you can save the cash by parking on the outlet shoulder on Highway 1 and just walk in.
Learn More about Andrew Molera State Beach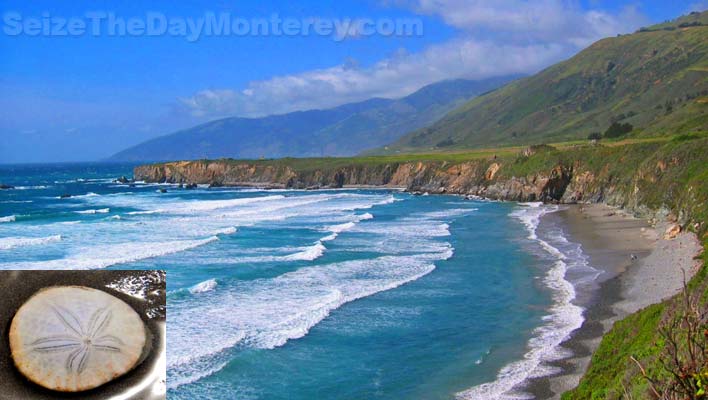 Big Sur Beaches #5: Sand Dollar Beach:
Sand Dollar Beach is a decent beach but of the five Big Sur California beaches listed here, you could probably do a quick 30 minute stop or skip this one altogether if you're not going to the southern edge of Big Sur.
A popular spot for surfers and rock hounds as jade can be found here as well as at Jade Beach. Don't get your hopes up though as most of the jade has been picked over as jade fetches a handsome dollar these days.
Sand Dollars can be found here as the name implies, but go early morning to beat the birds that eat them as well as the other Sand Dollar collectors 😉
Don't swim here though, the currents are quite strong. No dogs here though. You'll spot the turnout from Highway 1 quite easily as there are signs as well as a decent sized area for parking. This beach is near the southern edge of the Big Sur area, so it's quite a drive from the Monterey Carmel area, but a quick one from Cambria.
Help me help others enjoy Monterey to the fullest!
Send me a quick writeup of your favorite Big Sur Beach. Pics and Vids fully welcome!

Or just leave a quick comment below!!!
Other Big Sur Articles that you may be interested in: