Possibly the Best Pizza of All the Monterey Restaurants Can Be Found Here!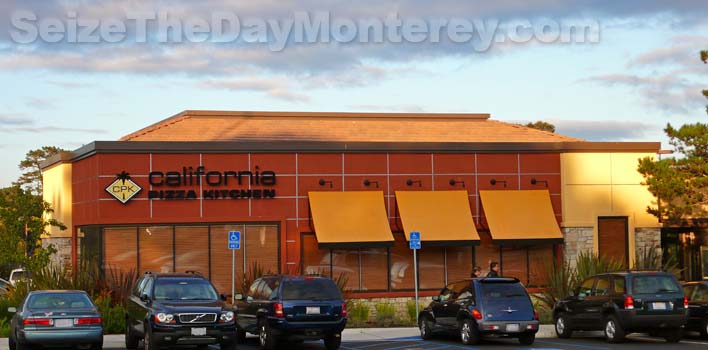 When you've got a craving for a great pizza pie and want to eat at a classy Monterey restaurant, the California Pizza Kitchen will do the trick.




The California Pizza Kitchen (CPK) prides itself in gourmet pizzas and you will not be disappointed.
I've never seen such a wide variety of pizzas anywhere, from traditional Pepperoni to their Original BBQ Chicken (which they claim to have invented), to my personal favorite the Garlic Chicken.
They even have a Carne Asada Pizza which has grilled steak and fire roased mild chilies!
Their variety is king and there is something for everyone, even a Cheeseburger Pizza! And DO NOT panic, yes they have plain Cheese Pizza for the Kids 😉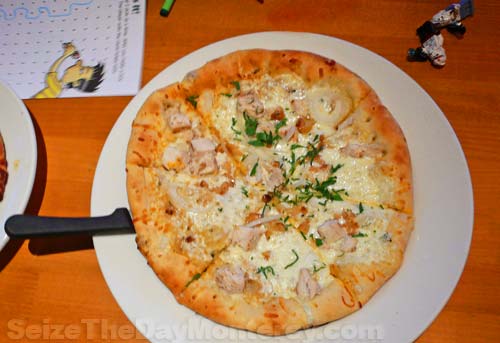 The Garlic Chicken is My Personal Favorite!!!
And no, the Lego Clone Troopers in the Upper Right are not mine!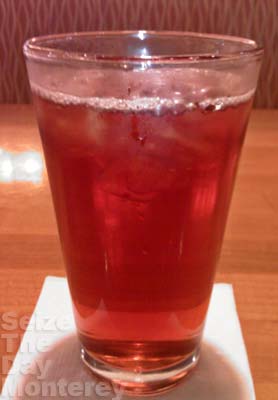 Get The Peach Iced Tea!
But Pizza isn't the only thing CPK is known for. They have a great assortment of Pastas, Salads, Soups, Sandwiches, Full Bar, Wine Tasting, and Appetizers. We especially like the Portabello Mushroom Raviolis for when we don't feel like pizza.
Their Peach Iced Tea is one of their most popular drinks and something I always get refills of! Can you say "Free Refills"?
And Ohhhh the appetizers. From Singapore Shrimp Rolls to Spinach Artichoke Dip with Tortoilla Chips to Cabo Crab Cakes, man-o-man I'm getting hungry just writing about it and I just ate there last night, no joke!
But Our favorite CPK Appetizer is hands down the the Sesame Ginger Chicken Dumplings…See the pic Below: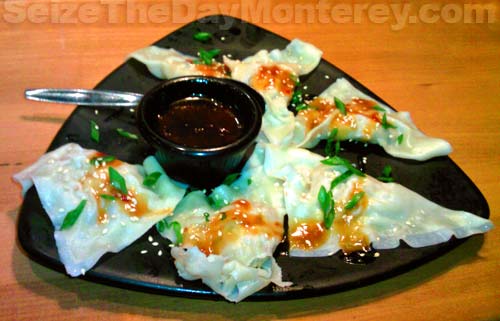 Our Favorite Appetizer, The Sesame Ginger Chicken Dumplings! Try it, You'll Like It!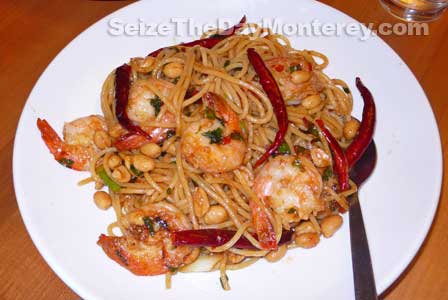 Pizza isn't the only Thing CPK is Known for. This Kung Pao Spaghetti is Exceptionally Good!
So Is CPK the Best Pizza Joint of All the Monterey Restaurants?
The pizzas here are excellent, maybe only a slight, slight second to Gianni's Pizza in Pacific Grove in my opinion. The deciding factor between these two great Monterey Restaurants should be:
If you want a more traditional Pizza Parlor in terms of seating, ordering at the counter, super laid back atmosphere (which can get loud), then head to Gianni's Pizza.
If you want a more classy restaurant where you're seated and waited on then California Pizza Kitchen is the one. Their service is quite good despite how busy they usually are.
Some Useful Tips for Dining at the Pizza Kitchen:
One Pizza Per Person:

CPK does things a little differently than your usual pizzaria. Instead of ordering pizzas to share, you actually order your own personal pizza.

Each pizza is more than enough to fill an adult and in many cases you'll have take home.

Split A Pizza:

So you're not super hungry and rather not have leftovers, then just split a pizza with someone you love. A personal Pizza is six slices, so three each. CPK charges $2 extra if you want different toppings on each half though.

Expect a Short Wait:

CPK is usually quite busy because they're pretty good but also because they're located at the Del Monte Mall. A short wait at CPK is usually 10 minutes or so but if it's longer just cruise the mall for a little while.

Birthday Coupons:

If you frequent CPK in Monterey or any one of their other locations, sign your kids up for their birthday coupons online.

Every year around your kids birthday they'll send a coupon for a FREE meal including dessert!

Call Ahead:

Don't want to wait, just call ahead up to an hour before you arrive to get the quickest seating possible. A must for a large party. 831-375-4975

Ask For Bread:

Our Experience has been that most of the time they'll bring you bread but not always. Just ask for Bread and you'll have a great pre-appetizer appetizer.

Refills Are Free!

On most drinks anyways including the Teas, Lemonaides, and Sodas.

The Best Free Things in Monterey

Trade Pizza!

Swap a slice with someone (in your party…) to try something new. This is a great way of finding your next favorite without having to buy the full pizza.

Shop at the Mall!

CPK makes the perfect post Shopping Spree reward after a full day at the Del Monte Shopping Center which is one of the best places to Shop in Monterey!

No Delivery:

Sorry, but this Pizza Parlour does not deliver but they'll do the next best thing. You won't even have to get out of your car with their Curbside Service.

Curbside Service:

This is really cool if you just want to eat in. Call in your order (831-375-4975) or order online. Pull up into one the curbside parking spots at CPK and call them when you arrive. They'll bring out your order and off you go!

Order Online:

Got your iPhone or Laptop handy while on your Monterey Vacation? Place your order online and then pickup at CPK's convenient Pickup Counter.

Big Party?

Make Reservations: CPK does take reservations. Call it in at 831-375-4975.

The Revolving Door is Kinda Cool:

Check it out once, maybe twice, but no more than that, it's not a Merry-Go-Round 😉 Oh and don't let the kids play in it, it can be dangerous.
FREE Monterey Bay Aquarium Tickets
Monterey California Pizza Kitchen Address and Phone Number

1100 Del Monte Center
Monterey, CA 93940
831-375-4975
Help me help others enjoy Monterey to the fullest!
Send me a quick line or review of your favorite Monterey Restaurant! Pics and Vids fully welcome

Or just leave a quick comment below!!!
Other Monterey Articles that You May be Interested in: