Are you looking to Purchase Monterey Bay Aquarium Tickets? Follow a couple of these simple pointers to save yourself some time and stress!

Buying your tickets to one the best aquariums in the world seems rather simple.
Walk up to the entrance, buy your ticket and be on with it. Right? Wrong.
Save yourself some time and agony and don't take your chances with buying your Monterey Aquarium tickets at the door.
Sounds strange right? Well stranger things have happened.
Peak season is even more disastrous. I once walked by and saw the line literally around the block when a Monterey Aquarium official came out to let everybody know that "the aquarium was sold out". I'm not kidding, SOLD OUT!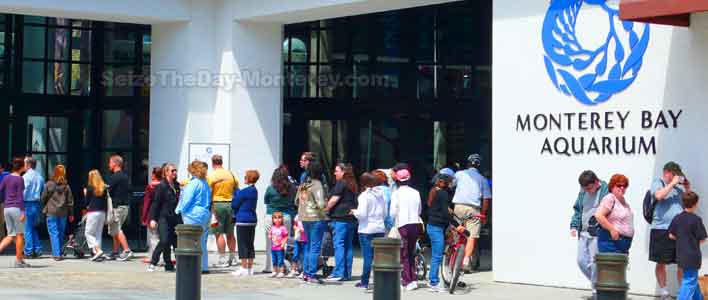 So what that meant was that those poor folks had to wait in line until people trickled out of the Monterey Aquarium while standing out in the sun.
And from what I saw, it was a very slow trickle of people leaving the aquarium that day which meant the line was moving very, very slowly.




Pictured above.
Not a fun way to spend your afternoon in Monterey! Not only can you easily avoid this situation, but you can actually bypass it altogether with the tips I provide below.
This won't happen to you, you have me as your guide 😉 The tips I provide below will all you to enjoy the Monterey Bay Aquarium to the fullest!
Tips on Purchasing Your Monterey Bay Aquarium Tickets
Avoid purchasing your tickets at the door if at all possible! Phone them in or buy them online. See below:

Check with your Hotel for aquarium tickets.

Many local hotels not only sell tickets, but some even offer a 2 days for the price of one
Monterey Bay Aquarium Discount Hotel Deal

This Monterey Bay Aquarium Discount is worth considering because in my opinion 2 half days at the aquarium is so much better than 1 full day. Especially if you're on a family trip and have young kids 😀

Get Monterey Bay Aquarium Discounted Tickets and even avoid the lines while doing it!

Buy an Aquarium Membership.

It can save you money and time even on the first visit!

Members enter through a special side entrance directly into the Otter exhibit, so less lines! Find out how an aquarium membership can save you big $$$

Phone your tickets in with a credit card and then pick them up at windowed booth up front.
(866) 963-9645
Order your tickets online here. Be aware that tickets are non-refundable and are only valid for one year after purchase date.
Help me help others enjoy Monterey to the fullest!
Send me a quick line about your favorite things to do at the Monterey Aquarium! Pics and Vids fully welcome

Share your Monterey Aquarium Tips
Or just leave a quick comment below!!!
Other Monterey Articles that You May be Interested in: