Things You Absolutely Have to do in Big Sur California!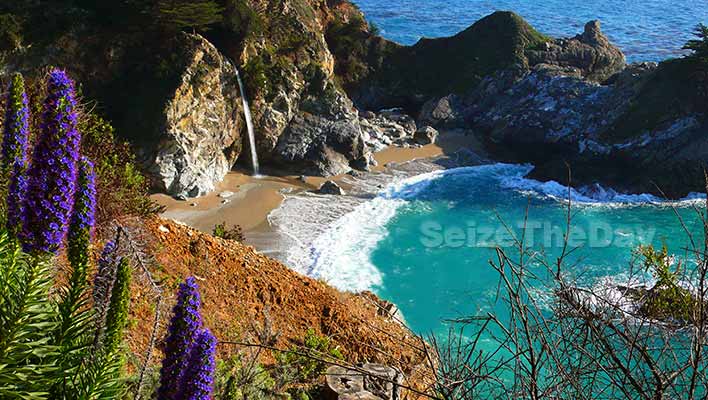 Are you looking forward to your Big Sur California trip?
I bet you are and for good reason, there is lots to see, do, and experience.
My advice, don't try and do it all like many do. I know you want to make the most out of your time here in Big Sur but the worst thing you can do it to try and do everything.
This is contradictory to what Big Sur is all about. Pick a few of the best things and fully enjoy them. You'll truly get what Big Sur is all about if you go this route.
In the spirit of this, I've hand selected the very best things to do in Big Sur. Well, check out my must do list below for some ideas. Take your time and enjoy! Because it's not about the destination, but the journey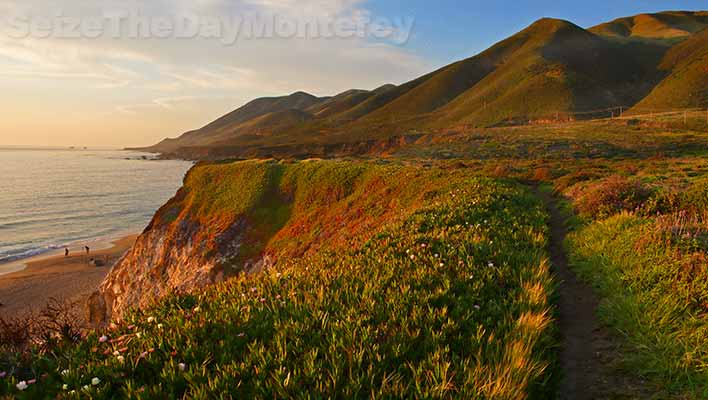 Things You Simply Must Do In Big Sur California:
Hike the hikes that Big Sur California is known for!
Be it the easy or challenging ones! The gorgeous view above is from the overlooking bluffs at Garrapata State Beach.
This trail will lead you to a small canyon where the Doud Creek flows to the Pacific Ocean.
Here is where you'll find hundreds of blooming Calla Lillies depending on the time of year. Please don't pick them. I once saw a man purposely picking the very best Calla Lillies and walking off with at least 15-20 of them. Please don't do this. Let others enjoy them too!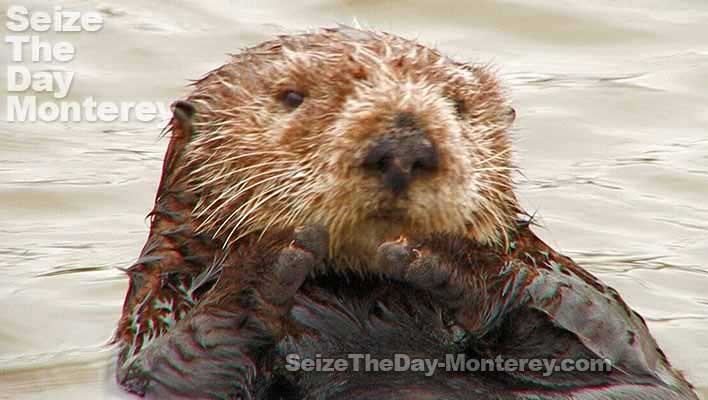 Witness Big Sur's Magnificent Wildlife
Wildlife such as Sea Otters (pictured above), Monarch Butterflies, Migrating Whales, Harbor Seals, Sea Lions, Great Blue Herons, and so much more!
If you are really into seeing wildlife then there is no better single place in all off Big Sur California than Point Lobos State Reserve!
You will see all of the above and so much more at this truly magical place that inspired Robert Louis Stevenson's classic "Treasure Island".
The best places in Point Lobos to see Sea Otters and Harbor Seals would be Whaler's Cove. During March and April you'll see the Seals pupping on the beach. It is truly remarkable as you'll witness Mom and pup bonding on the beach and even swim lessons!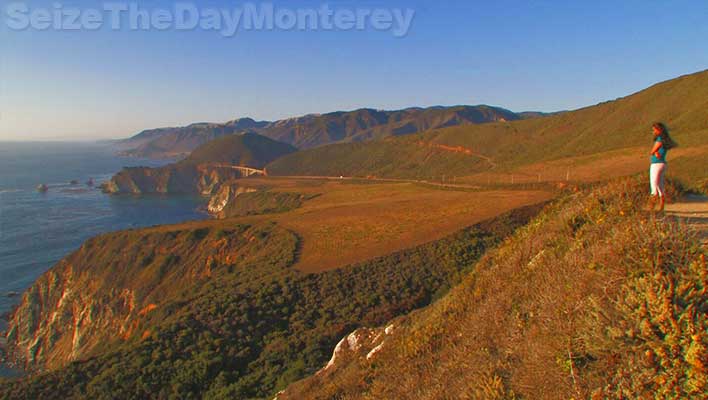 Big Sur's Best Sightseeing Spots: Hurricane Point, Bixby Bridge, McWay Falls, and More!
Don't miss the Best Big Sur California Sight Seeing Spots such as Bixby Bridge, China Cove Beach, McWay Falls, and Hurricane Point (pictured above) and so much more!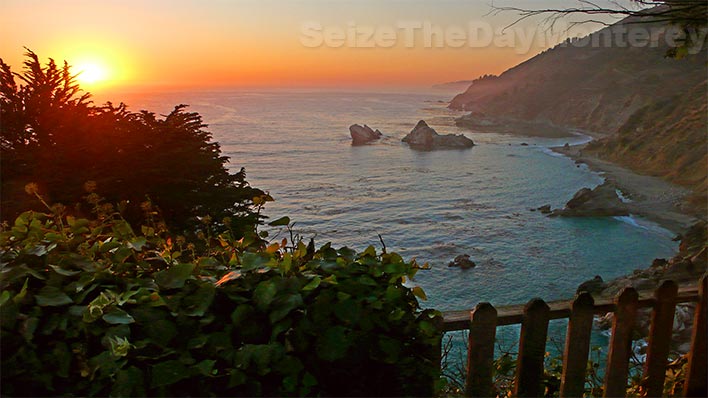 Big Sur Sunsets
Watch a glorious Sunset from one of the Best Places in Big Sur to Watch the Sun go Down! See why McWay Falls (pictured above) and Pfeiffer Beach are two of the best places to watch sunsets!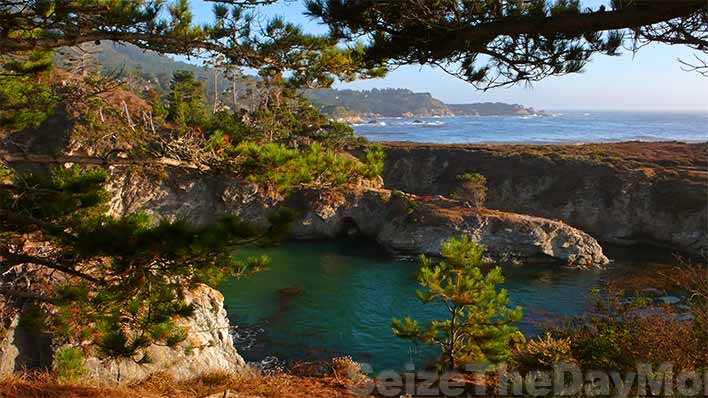 Point Lobos State Reserve
Did You Know that Point Lobos State Reserve inspired the classic novel "Treasure Island"?
You'll realize why once you set foot on this amazingly beautiful park.
It is hard to truly describe how magical Point Lobos is.
Truly set aside at least 2-3 hours to check out one of my highest recommended things to do in Big Sur California and all of Monterey!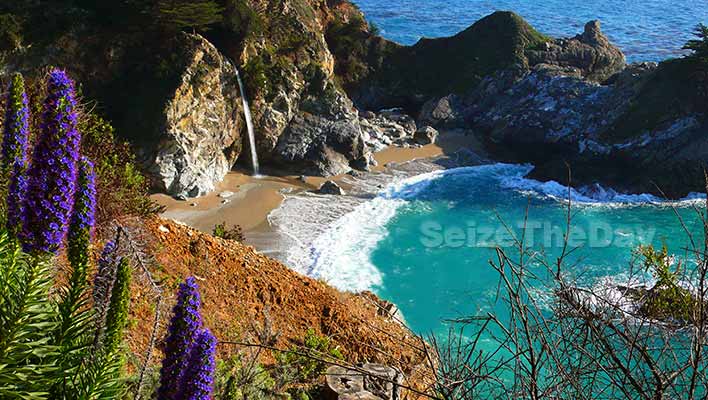 Big Sur California: McWay Falls
Take an easy five minute hike to experience the Crown Jewel of Big Sur California: McWay Falls at Julia Pfeiffer Burns State Park. If you could only stop and see one thing in all of Big Sur California, make sure it is McWay Falls!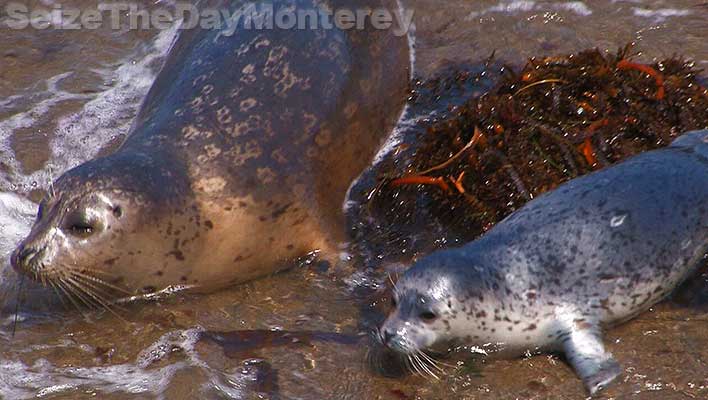 Seals Pupping at Point Lobos State Reserve
Are you visiting Big Sur California during March or April? Then you have to head down to the
Point Lobos State Reserve and see the Seals Pupping. You'll get great views of the seals on the beach at Whalers Cove and China Cove Beach. Time will stand still while you're watching the young pups play in the water with their mothers.

Horseback Riding Tours on the Beach in Big Sur California
Watch the Sunrise and/or Sunset from a Horseback Tour to the Beach! That's right, you can take a horseback tour to the beach in Big Sur California. You'll get to witness a glorious sunrise or sunset from horseback. And of course there are mid-day tours as well!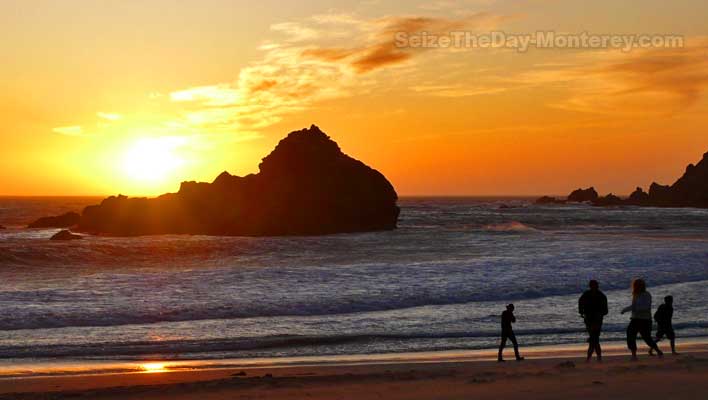 Pfeiffer Beach
Pfeiffer Beach in Big Sur has to be one of the most magical beaches if not places in all of the Monterey Bay. You truly feel the grandness of Big Sur while walking on this beach where the mountains literally meet the Pacific Ocean.
It gets windy here, bring a hoodie sweatshirt for sure. Never swim here though, the current will surely pull you out to sea if not slam you into one of the many rocks.
Did I Miss Something?
Help me help others enjoy Big Sur to the fullest!
Send me a quick line of your favorite "Must Do" things in Big Sur! Pics and Vids fully welcome

Or just leave a quick comment below!!!
Other Monterey Articles that You May be Interested in: