A Big Sur Camping Trip is the Best Way to get up Close and Personal with Big Sur Herself!

Big Sur Camping is big time and for good reason.
Communing with nature in this part of the world is unrivaled.
You have the most beautiful coastline in the world to the West, and the gorgeous Lucia Mountains to the East. And this is in essence your campsite!!!
There are hikes galore through redwoods, along bluffs overlooking the tremendous Big Sur Coastline.
Through the Big Sur River and streams, and the unforgettable Big Sur Waterfalls that many of these trails take you to! There is just so much to enjoy while camping in Big Sur!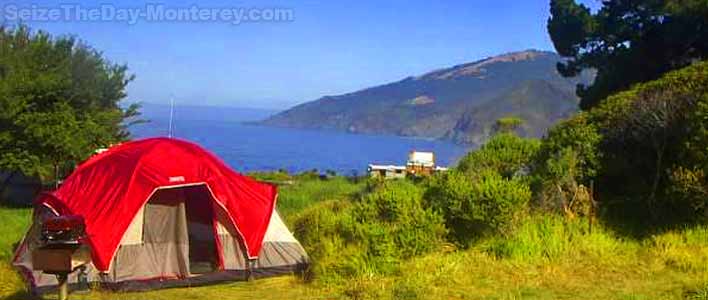 It is no wonder that Big Sur Camping is world popular. Many of the more popular campsites book up months and sometimes a full year in advance.
Many of these sites are booked by the same people year after year as Big Sur California is not a place, but a state of mind!

My advice, make your reservations VERY EARLY! Especially if you want one of the more Popular Big Sur Camping Spots such as Julia Pfeifer Burns State Park.
If you so happen to not make reservations early enough, don't rule out Big Sur camping altogether quite yet. There are a few camping spots that are first come first served such as Andrew Molera State Park.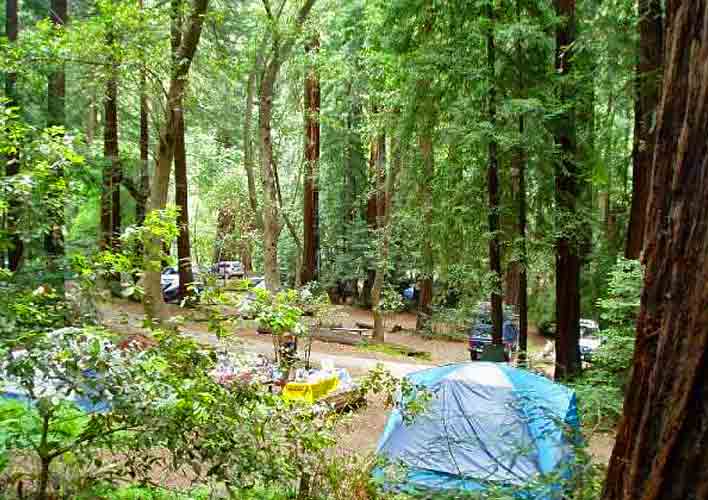 Big Sur Lodging Options



Tent Campsites:

Pitch Your Own Tent! Believe or not, you should make reservations for tent campsites as well!




Tent Cabins:

A Luxury Permanent Tent Structure that usually has premade beds. Good for those who don't want to fuss with hauling all of your own camping gear.




Big Sur Cabins:

Typically Rustic Cabins Nestled among Redwoods, near the Big Sur River, or overlooking the Big Sur Coastline herself!






RV Sites:

RVing in Big Sur is becoming more and more popular so of course there are a few Big Sur campsites that accommodate RVs.

Got Pets?

You'll be surprised to find out most places in Big Sur do not accomadate pets but some do. Check out Big Sur Lodging with Pets




Big Sur Hotels:

There are a number of very accommodating Big Sur Hotels and motels that are ideal for families. Some of them even have swimming pools!




Big Sur Resorts:

Want to stay in sheer and utter luxury while in Big Sur? You will not be disappointed with these Big Sur Lodging in Luxury options.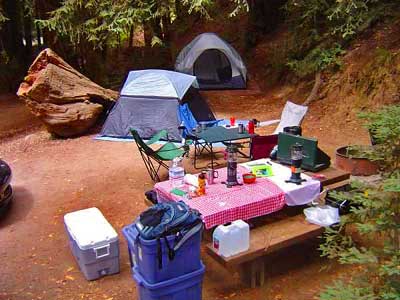 Now depending on the person, the above options aren't necessarily camping.
But then again I think the point of Big Sur camping isn't how or where you stay but rather that you enjoy Big Sur California!
So what is there to do while on your Big Sur camping trip?
The better question is "how much time do you have" because there is so much to experience in Big Sur. And take my words to heart when I say "Experience" as Big Sur is not a place you want to just check items off of a "to-do" list.
The old saying "Big Sur is not a Place but a State of Mind" is spot on. Take your time, take in the vistas and then take time to be a part of them, sounds cheesy I know but there is a difference. Don't just take a picture of that gorgeous landscape, be a part of it:



Hike the hikes that Big Sur California is known for!

Be it the easy or challenging ones.

Point Lobos State Reserve pictured left has a number of easy to moderate hikes that are perfect for the Family.

Pfeiffer Beach

See the Sun's rays shine through the Rock Arch at the most beautiful beach in all of Big Sur if not California, Pfeiffer Beach. Unfortunately there is no camping here.

Big Sur Beaches You Cannot Miss

See the Best Big Sur Sight Seeing Spots!



Point Lobos State Reserve

See why Point Lobos inspired the classic novel "Treasure Island". There is no camping at the Point Lobos State Reserve though, but day Trips are more than recommended!

Witness Big Sur's Magnificent Wildlife

Such as sea otters, Monarch Butterflies, Migrating Whales, pupping seals, Great Blue Herons and so much more!

Watch the Sunrise and/or Sunset from a Horseback Tour to the Beach!

Hike the easy two mile trail to Andrew Molera State Beach.




Watch a Glorious Sunset!

Best Places in Big Sur to watch the sun go down!

Pfeiffer Beach pictured left is one of the best spots to take in a glorious Big Sur sunset.

Witness the Crown Jewel of Big Sur, the McWay Waterfall and come away mesmerized.

Collect Sand Dollars at Sand Dollar Beach. Be sure to do it early in the morning though!



Drive Highway 1:

I know you're camping, but the drive is one of the best in the world!
Some Big Sur Camping Tips:
Make your Reservations Early, even if it's just a tent campsite! Places book up months and sometimes a full year in advance. Call around even if your Big Sur camping trip is just days away.
Poison Oak is Everywhere: Be sure you and everybody in your group knows how to identify Poison Oak. This stuff is everywhere in Big Sur. Rule to remember "Leaves of 3, Let it Be!"
Big Sur Gets Chilly: Even in the Summer months. This is coastal territory and the climate can be unpredictable, from sunny and warm to foggy and windy in just minutes. Temperatures at night can drop drastically so be prepared. Dressing in layers is a must.
Big Sur Camping with Pets: Most places in Big Sur California simply do not allow pets. That's most places and not all. Check out Big Sur Lodging with Pets to find out which places are pet friendly.
Help me help others enjoy Monterey to the fullest!
Send me a quick line about your Big Sur Camping trip! Your favorite site, trail, beach, etc. Pics and Vids fully welcome

Share your Big Sur Camping Tips
Or just leave a quick comment below!!!
Other Monterey Articles that You May be Interested in: