Would You Like Luxurious Big Sur Lodging?

Don't let Big Sur's rugged looks and remote location deceive you.
There are LUXURIOUS Big Sur Lodging offerings that will pamper you beyond belief.
Of course this comes at a price. Be ready to shell out anywhere from $550 to $2200 a night to stay at one of these hotspots for honeymooners and celebrities alike.
What you get for your dollar is unparalleled anywhere else as there is no other place in the world like Big Sur.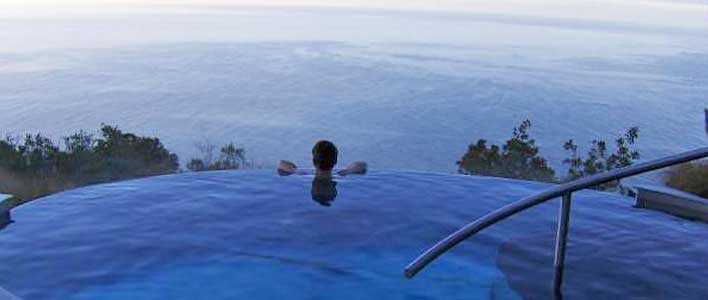 The ambiance, the ocean views, the breath taking rooms, the spa treatments (extra of course), and the opulence of the resort are top notch.
The attention to every minuscule detail is all to achieve one end, to insure that your retreat is perfect.
If you're looking for Luxury Big Sur Lodging, look no further than the fine resorts below.
If luxurious just isn't your style and you're looking for a more one with nature and rustic Big Sur experience, check out Rustic Big Sur Lodging.
Big Sur Lodging in Luxury:
Post Ranch Inn:
Quite simply the Post Ranch Inn is about as luxurious a resort can get regardless of location let alone in Big Sur California!
If you're looking for the perfect Honeymoon spot you will not be disappointed with the Post Ranch Inn. Often a hotspot for the rich and famous and honeymooners as well and for good reason.
If ocean views are high on your priorities, be prepared to spend well over $1000 per night.
The ocean views are unsurpassed by an other luxury spa in all of Big Sur California as the Post Ranch Inn is located on the ocean side of the highway so the views are amazing!
Their Sierra Mar Restaurant is tremendous both in food and views.
To preserve the romantic ambience, no children are allowed at the Post Ranch Inn and there are no in-room televisions probably for the same reason 😉
The Ventana Inn and Spa
Looking for high class luxury but the Post Ranch Inn prices are a little too extravagant? Then check out the Ventana Inn and Spa right across the way. The rooms tend to be $100-$200 cheaper a night if not more but they surely DO NOT skip out on the accomadations!
The Ventana Inn rooms are simply amazing with rooms that have hot tubs, wood burning fireplaces, and private decks with ocean views! Just so you know, the ocean views aren't that great as the Ventana Inn is located on the mountain side of the highway so the ocean view is a distant one. It's more of a view of a blue strip than anything but hey you can see it 😉
The rooms also have large LCD TVs as well and their onsite restaurant Cielo's is highly recommended.
Like the Post Ranch Inn, no children under the age of 18 will be allowed to stay at the Ventana Inn and Spa.
Decisions, Decisions!
So you're ready for your unforgettable trip to Big Sur California but it comes down to which luxury Big Sur Lodging to stay at: The Post Ranch Inn or The Ventana Inn and Spa?
Hands down the The Post Ranch Inn is known to be the be all and end all of luxury retreats of all Big Sur lodging if not all the US.
If the price is simply too steep at the Post Ranch then the Ventana Inn and Spa will surely please.
Both fine resorts are right across the street from each other and you really can't go wrong staying at either one. Whichever you decide, you could always check out the other when you're there. Both Resorts have fine restaurants which you can make reservations for and then simply walk around the premises and get feel for the place for your next trip to Big Sur California =)
Help me help others enjoy Big Sur to the fullest!
Send me a quick line or review of your favorite Big Sur Lodging! Pics and Vids fully welcome

Share your Big Sur Lodging Tips
Or just leave a quick comment below!!!
Other Big Sur Articles that You May be Interested in: