Would You Like Big Sur Lodging that has an Ocean View?

If you're looking for Big Sur lodging with an ocean view I have to tell you that you don't have many options.
Most Big Sur hotels simply don't overlook the ocean but the few that do simply have amazing views for the most part.
Unfortunately these ocean views come at a price.
On the high end, you'll pay $1000+ a night to stay at the opulent Post Ranch Inn that will treat you like the rich and famous because well, that's who usually stays at this grand establishment.
But don't let that scare you off, there are some quite affordable Big Sur Lodging with ocean views that can be had for as low as $150 a night! Sounds unreal but I list a couple of them below.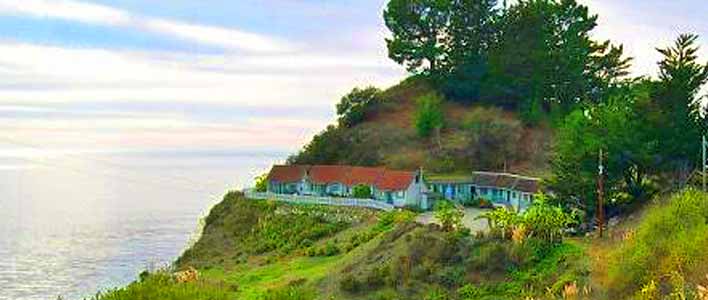 Big Sur Lodging with an Ocean View:
Lucia Lodge:
Lucia Lodge probably has the best ocean views of any of the Big Sur Lodging options.




They have 10 cabins right on a cliff just 300 feet above the pacific ocean offering panoramic views of the Big Sur Coastline.
Lucia Lodge is also one of the more affordable ocean view options in Big Sur.
Their cabins hover in the $195 a night range during high season which are usually the summer months. The cabins are little more affordable during the off-season and range from $150. Not a bad deal at all 😀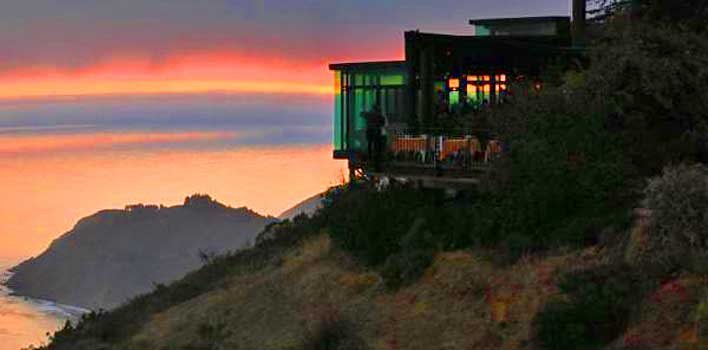 Post Ranch Inn:
Post Ranch Inn is probably the Premiere spot for Big Sur Lodging. A favorite for honeymooners and celebrities with the prices to match.




This is the ultimate luxury Big Sur Lodging getaway!
The Post Ranch Inn has all of the amenities and then some to go along with all of the grandness of Big Sur Lodging ocean views.
An ocean view room will run you $1000 plus a night but what a view it is with matching accommodations!
If you want one of the best Big Sur Lodging Ocean views along with the best luxury money can buy, then the Post Ranch Inn is for you 😀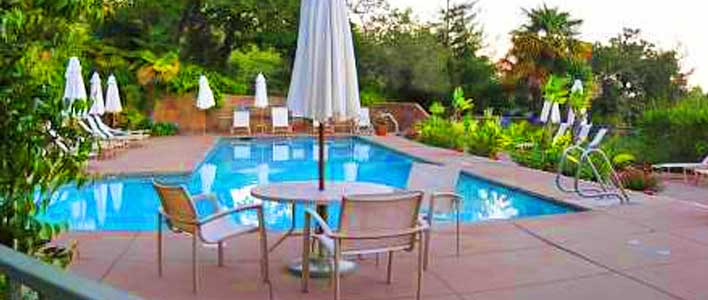 Ventana Inn and Spa
The Ventana Inn offers ocean views but as stated on their website, they're "distant views" as they're a ways from the ocean.
But their accommodations are maybe only second to the Post Ranch Inn and that's saying quite a bit.
Gorda Springs Resort:
Most of the lodging at Gorda Springs Resort have ocean views and with a very affordable rate hovering in the $150-$300 range.
Many of the "Houses" have private ocean view decks and patios!
Things You Must Do in Big Sur California
Ragged Point Inn:
Enjoy the spectacular ocean views from your personal balcony from the Cliff-Top Rooms at Ragged Point Inn!
Viewing a sunset from your own personal balcony without having to look through a pane of glass is truly special.
Best Sight Seeing Spots in Big Sur
Treebones Resort:
The Treebones Resort offers ocean views along with a quite unique Big Sur Lodging experience! You actually stay in a Yurt which is a tent like structure that is quite accomadating!
Treebones is a great option if you really want to have a more nature driven experience in Big Sur California but don't want to do the full on camping thing.
Help me help others enjoy Big Sur to the fullest!
Send me a quick line or review of your favorite Big Sur Lodging! Pics and Vids fully welcome

Share your Big Sur Lodging Tips
Or just leave a quick comment below!!!
Other Big Sur Articles that You May be Interested in: