Do You Need Affordable Big Sur Lodging?

Lodging in Big Sur or anywhere in the Monterey county can be expensive!
Especially during the peak tourist season which usually lands between June and August.




One thing is for certain, Big Sur lodging will not be cheap, but there are affordable options.
Affordability is such a relative thing so I'm going to go ahead and list Big Sur Lodging that can be had for $200 or less a night.
Prices subject to change so I'm going for ballpark prices so of course be sure to call ahead for pricing. Don't just show up, you might end up paying more than you planned on which would not be preferable as we all want our money to go as far as possible.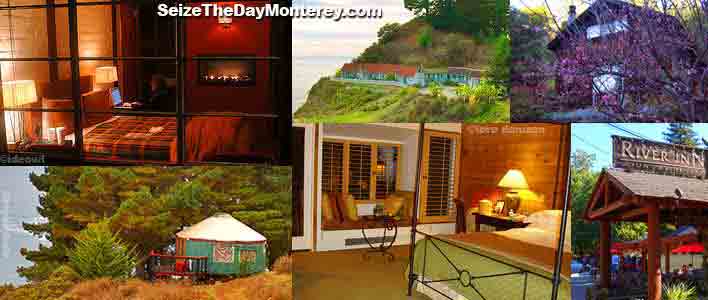 Also I've taken the liberty of listing high season rates as that's when most folks come to Big Sur California.
If you so happen to be coming in the off season, rates will be lower in most cases.
Just remember to book your reservations early.
Many places fill up months if not a year in advance. Learn more Big Sur Lodging Tips
This is not an exaggeration, Big Sur Lodging fills up quick!
The people who make the reservations six months to a year in advance are usually the ones who want to make sure they will have Big Sur Lodging the following year as they just had a great visit 😀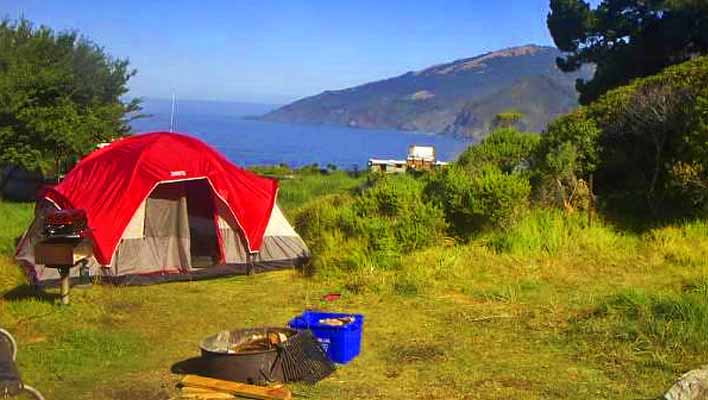 Big Sur Lodging for $200 or Less a Night:
The most affordable Big Sur Lodging going is simply getting a campsite and pitching a tent.
Be sure to pack warm enough as coastal camping can be chilly.




Much like the rest of Big Sur Lodging, make reservations and make them early.
Many of the more popular Big Sur camping sites fill up months in advance. There are some campsites such as Andrew Molera State Park that sometimes have vacant campsites during peak season, but I wouldn't chance it. Learn more about Big Sur Camping Sites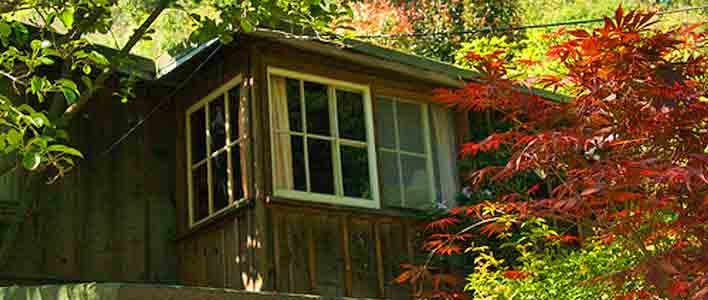 Deetjens Big Sur Inn: ($80-$200)
Deetjens may be one of the most affordable Big Sur lodging options out there. This quaint little motel has rooms for as low as $80 for a twin bed and a shared bathroom.
You're not going to find a cheaper place and for the price and what you get, it's quite a deal. These rooms are about as cozy and rustic as it gets and there is a charm about them.
Another added bonus is Deetjens is known to have the best breakfast to be had in all of Big Sur!
Big Sur Lodging For Under $100
Riverside Campground and Cabins: ($100-$200)
Riverside Campground and Cabins is truly a deal and very Pet friendly. They are the only Big Sur Lodging that will allow dogs in their cabins! A two dog per cabin and/or campsite limit is strictly enforced. Pets must be on a leash and attended.
Onsite massages are available as well!
Moderately priced at $100-$200 a night for both the cabins and tent cabins. And $35 for the tent sites, ($40 for a site next to the river).
Big Sur River Inn: ($125-$260)
The Big Sur River Inn is probably one of the most affordable Big Sur Lodging options for families with prices ranging from $125-$260 a night.
Their accomadations are geared towards family convenience with a heated pool, a good onsite restaurant, and you guessed it, views and easy access to the Big Sur River.
Things You Must Do in Big Sur California
Big Sur Campground and Cabins: ($160-$360)
Big Sur Campground and Cabins has to be one of the best familiy oriented campsites. And guess what, it is quite affordable with tent sites going for $35 and full Cabins going for $160-$360 a night.
If you're looking for affordable Big Sur Lodging for the family and want to be with the Redwoods, then this is a tremendous value option. They offer river tubing, have a playground, basketball and volleyball courts and many of the cabins even have full kitchens!
Best Sight Seeing Spots in Big Sur
Treebones Resort: ($155-$190)
Unique and affordable rarely go hand in hand, but it sure does at the Treebones Resort! For $155-$190 a night you get to experience Big Sur in a Yurt!
A Yurt is a tent like structure that has amazing Big Sur accomadations such as hardwood floors, a Queen sized bed, and even french doors that open up to a personal deck with views of the ocean!
Lucia Lodge: ($195-$275)
Lucia Lodge is nearing the top end of my $200 or less range falling just $5 under.
But the ocean view you get for the money is
the best ocean view you can get of all the Big Sur Lodging out there. You are literally in a cliff side cabin just 300 feet above the ocean!
Big Sur Lodge: ($209-$369)
Well, okay, I cheated a little. The Big Sur Lodge is over my $200 a night affordability cap, but man $9, a measly $9 over… I thing for an extra $9 the Big Sur Lodge should make the list.
For one, it is situated within the Pfeiffer Big Sur State Park which is a tremendous convenience as you are already there! Easy hikes to waterfalls through towering Redwoods all without having to drive anywhere! Now that's worth bending for nine little dollars wouldn't you agree?
If not, then the summer activities for the kids, an onsite grocery store, and a swimming pool surely will.
Help me help others enjoy Big Sur to the fullest!
Send me a quick line or review of your favorite Big Sur Lodging! Pics and Vids fully welcome

Share your Big Sur Lodging Tips
Or just leave a quick comment below!!!
Other Big Sur Articles that You May be Interested in: