Would You Like Some Big Sur Lodging Tips that will make Your Stay Even Better?

So you've decided that you're going to stay in Big Sur! Great move, there is no other place like Big Sur in the world.
It is my absolute favorite place in the world and I want you to experience it as well!





There are a number of great Big Sur Lodging options, enough options to satisfy just about anybody.
There are superb options for those looking for Big Sur Lodging in luxury, or affordable Big Sur accomadations, or even Lodging in Big Sur for under $100 a night!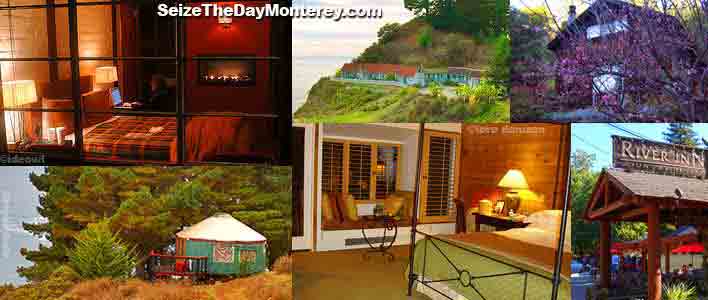 The tips I've outlined below will help you're Big Sur California stay be a GREAT ONE!
Big Sur Lodging Tips
Big Sur Lodging is Either Very "Luxurious" or "Rustic"
There really is no inbetween out in Big Sur. You're either going to be paying $550-$2200+ a night for a room with amazing accomadations, or $150+ a night for rustic, quaint, and cozy.
Keep in mind these are no slums, and matter of fact many of these "Rustic" places sit next to streams and rivers in the middle of Redwoods. You can't get more fairytale than that!

Big Sur Lodging For Under $100
Make Reservations Early!
This applies to all forms of loding in Big Sur California be it a hotel, cabin, campground, Resort, you name it. Many of these places fill up fast months in advance if not a full year for some of the more popular spots.
If you do nothing else, make reservations. Even if you're just weeks or days from coming to Big Sur, a late reservation still gets you a place to sleep!!!
Stay in Monterey or Carmel
If you're dead set on staying in Big Sur then by all means, but another option would be to stay in Monterey, Carmel, or Pacific Grove. You could then drive into Big Sur which is no more than a 30-40 minute drive in.
Advantages of this are more selection in hotels be it affordability and more ameniities for the buck.
Avoid Visiting During Major Events
Lodging rates skyrocket during major events such as the Blues Festival and Delegance Car Show. And you'll have to fight tooth and nail just to find a vacancy.
Late Check-in? Be Sure to Call It In!
Regardless if you have a credit card holding the reservation, if you're going to be checking in late, be sure to call it in. And trust me, when you're enjoying the wonderous beauty of Big Sur, it can be hard to make it to your Big Sur Lodging ontime 😉
Find out which Big Sur California Attractions may make you late for just about anything…
Many places will hold the room until a pre-set time and if you haven't shown by then they'll give your room to somebody else and then charge your card anyways.
Rent a House in Big Sur California!
That's right, believe it or not you can rent a house in Big Sur for just a little more than the rate of a hotel, and in some cases they're comprable!
Just go to www.vrbo.com and search for Big Sur. VRBO stands for "Vacation Rental By Owner". You may be suprised at some of the houses you can rent.
Big Sur Camping is world famous and for good reason! Camping next to the Big Sur River in the middle of the Redwoods or on a bluff overlooking the coastline is simply amazing. And the proof is that Campsites and Cabins bookup months if not a full year in advance every year. Make your reservation EARLY!!!
Big Sur Camping is also the cheaping lodging you'll find in Big Sur.
Find out more about Big Sur Camping
How can this be? Big Sur Lodging for under $100 a night… Believe it, there are a couple of spots where you can stay in a room or cabin for under $100 a night. These guys are rustic but it's part of the charm of rugged and beautiful Big Sur!
Big Sur Lodging for Under $100

Two Night Minimum:
Most Big Sur Lodging has a two night minimum. If you only need to stay one night, try calling and asking the property directly. Most times they will be more than willing to accomadate you.
Want Big Sur Lodging with an Ocean View? Suprisingly, most Big Sur Lodging does not have ocean views but there are a few that do and they will not disappoint, well for the most part anyways if you know what you're getting.
On the luxurious side the Post Ranch Inn has tremendous ocean view rooms with prices to match at well over $1000 a night. The luxurious Ventana Inn and Spa has ocean views but they're quite distant but considerably cheaper than the Post Ranch Inn.
Either one of these establishments are a prime choice for a Big Sur California Romantic Getaway!
But you don't have to spend a crazy amount of money to get Big Sur Lodging with an ocean view. Lucia Lodge has cabins that have the best panoramic ocean views of any lodging in Big Sur for $195-$275 range!
Learn more about Big Sur Lodging with Ocean Views
No TV, No Phone, No Problem:
Many of the "rustic" more moderately priced Big Sur Lodging options won't have televisions or phones in the rooms. This is just a little forewarning as these items are common place in hotels these days.
But I think it really goes quite a ways to add to the Big Sur experience. To truly disconnect and refresh. Even the $2200 a night Post Ranch Inn doesn't have TVs!!!
Unfortunately many of the Big Sur hotels and lodging simply do not allow pets. In addition to this many of Big Sur's State Parks don't allow pets either because of their sensitive ecosystems. But that doesn't mean you have to leave part of your family home. You do have options, they're just limited.
Check out Big Sur Lodging with Pets
Another fantastic option is to find lodging in neighboring Monterey or Carmel and just drive 30-40 minutes into Big Sur. Carmel is known as a Super dog friendly town and the accomadations are great!
Cancellation Policies Vary Greatly:
Be sure to know your Big Sur Lodging's cancellation policy. Most will not allow same day cancellations and will charge your credit card anyways. Other places require cancellations to be 72 hours prior to your arrival date to get a refund minus processing fees while others will only give you house credit.
Help me help others enjoy Big Sur to the fullest!
Send me a quick line or review of your favorite Big Sur Lodging! Pics and Vids fully welcome

Share your Big Sur Lodging Tips
Or just leave a quick comment below!!!
Other Big Sur Articles that You May be Interested in: