Get your FREE Monterey County Library Aquarium Tickets! Up to 6 FREE passes!!!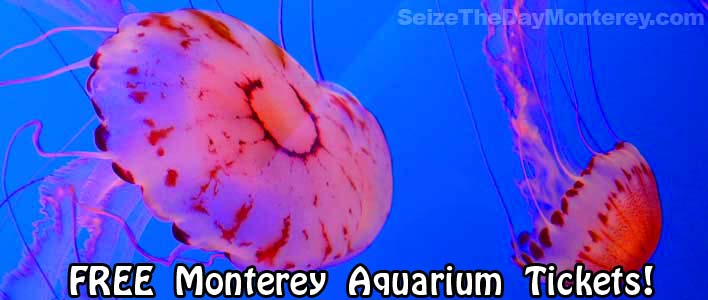 The Monterey Bay Aquarium is one of the top aquatic aquariums in the world and for good reason!
It is a very magical place that simply cannot be missed when you're visiting Monterey, California.
Ticket prices can be steep at $35 give or take for adults, and $22 for children. Prices subject to change, check the Monterey Bay Aquarium's web site out for the latest prices.
If you are a resident of the Monterey County and are a qualifying low income family than you can get free Monterey Aquarium tickets from the library.
This can save you a considerable amount of money. Money you could use at your favorite Monterey Restaurant or even souvenirs at the Monterey Aquarium.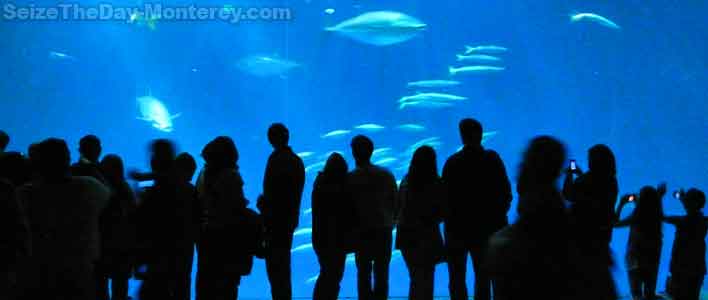 So "What's the Catch?" you may be asking.
Well, Individuals and families who qualify for Free School Lunch, WIC, SNAP, Meals on Wheels, Medi-Cal, Healthy Families, Healthy Kids, or similar social services can request one aquarium Shelf to Shore pass each year at most community libraries in Monterey County and in Watsonville. Each pass admits up to six family members for a one-time visit. The folks at the Monterey Bay Aquarium have done it again!
See below for the the details on how you can get a serious Monterey Bay Aquarium Discount with up to six FREE Tickets!!! If you can afford the "more than worth it" ticket prices, then please support this great establishment by visiting them!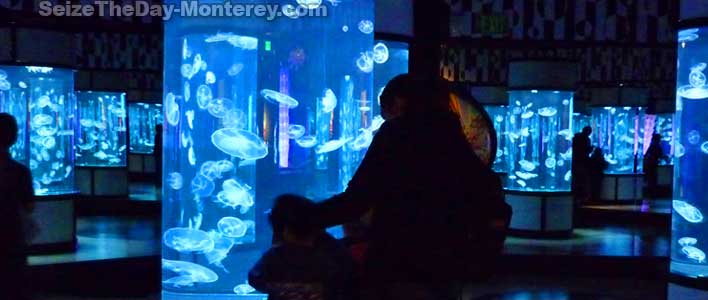 FREE Monterey Bay Aquarium Tickets from Monterey County Libraries!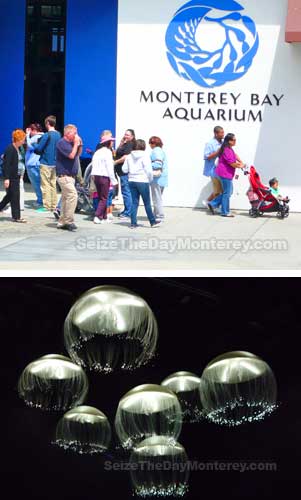 So where are the Shelf to Shore Passes available at to get free Monterey Aquarium tickets?
Shelf to Shore passes are available at a number of places!
The passes are available at Monterey County Free Libraries branches (in Aromas, Big Sur, Bradley, Buena Vista, Carmel Valley, Castroville, Gonzales, Greenfield, King City, Marina, Pajaro, Parkfield, Prunedale, San Ardo, San Lucas, Seaside and Soledad; and bookmobiles in North County and South County);
Salinas city library branches (Cesar Chavez, El Gabilan and John Steinbeck); and Watsonville public library branches in Freedom and Watsonville.




br>
br>
br>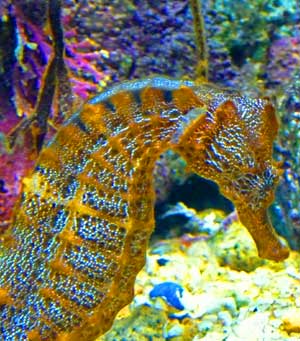 Get 6 FREE Monterey Bay Aquarium Tickets per Shelf to Shore Pass!
That's right, six, count them…1-2-3-4-5-6 free tickets per Monterey County qualifying family with a Shelf to Shore pass. This is a great opportunity for local families to visit one of Monterey's great treasures!
Each library card holder can request one pass to use between September 2012 and May 2013: Only one pass per patron per year.
Passes are valid from September 2012 through May 2013, excluding blackout dates, which are listed on the pass. Each pass admits up to six (6) people – the library cardholder and 5 others. All 6 people must enter the aquarium at the same time.
The Best FREE Things to do in Monterey CA
Help me help others enjoy Monterey to the fullest!
Send me a quick line about your favorite things to do at the Monterey Aquarium! Pics and Vids fully welcome

Share your Monterey Aquarium Tips
Or just leave a quick comment below!!!
Other Monterey Articles that You May be Interested in: