Can't Dedicate a Half or Full day to Big Sur California? No Problem.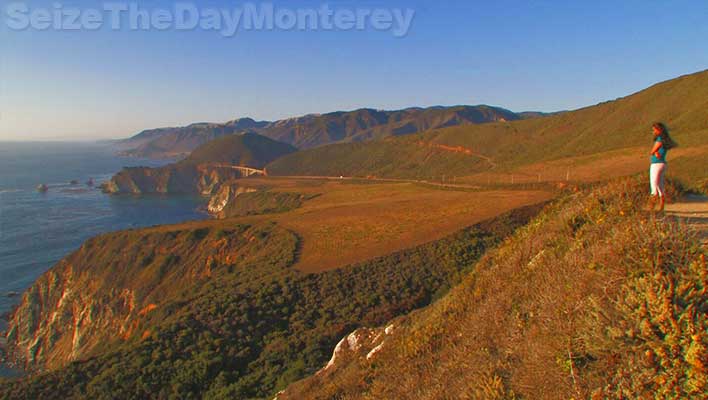 Ok, I know the deal, vacations are never long enough and there are always things you wish you would have done but you just didn't have time.
Well you don't want Big Sur to be one of those things, trust me.
To truly take in Big Sur you need at least a half-day if not a full-day, but that doesn't mean you can't still get a jist of her.
In 1-2 hours you'll be able to see a few key spots that will really give you an idea of what Big Sur is all about.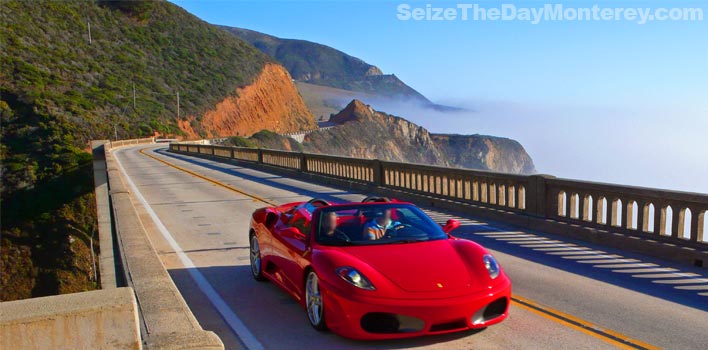 If you're not big on driving but still want to get up close and personal with Big Sur, then skip the guide below.
Go Directly to Point Lobos State Reserve just 10 minutes South of Carmel. It is a straight shot without any windy turns or cliff hanging drops and the best part is Point Lobos is probably the most beautiful places in all of Big Sur!
Mind you you will be spending most of your time driving but it will be worth it.
Hit the spots below and you'll see enough to be hooked but not nearly enough to be fulfilled.
Do Big Sur California in 1-2 Hours: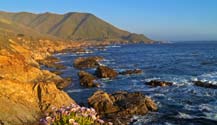 Take Highway 1 South: Take the highway slow and let the coastline open up for you as you round the turns. There is nothing like it the first time you see the Big Sur coastline open up before you. Big Sur Driving Tips
Pull over to the shoulder once you pass the Rocky Point Restaurant. You'll see cows, Bixby Bridge in the distance, and a great archway of a hole in a rock. Don't stay too long, it gets better!
Next Stop: Bixby Bridge! About 5-7 Minutes down the way will be probably the single most impressive site in all of Big Sur, Bixby Bridge. Pull over to the observation area and spend some time here taking it all in. You really get a sense of Big Sur's grandness here.
Believe it or not you can actually walk out onto the Big Sur Bridge herself to some observation benches. Be very very careful as the walkway is very, very, narrow.




It will take you about 1-2 minutes to walk out to the observation bench but be cautious. I usually try to time it when there are no cars crossing the bridge. Do this at your own risk.
Three Minutes Down the Way, Hurricane Point: You were just up close and personal with Bixby Bridge, now you'll be able to see her meld into the rest of the Big Sur Coastline.
This Vista Point is called Hurricane Point for a reason, it's windy most days so be sure to have your sweatshirt with hoody handy.
Point Sur Lighthouse:
From Hurricane Point you'll be driving for 5-7 minutes until your next stop which will be on the shoulder of the highway in front of the Point Sur Lighthouse. You don't necessarily have to stop, but it sure if beautiful!
The Big Sur River
About 7-10 minutes from the Point Sur Lighthouse you'll encounter civilization with the Big Sur Village. Grab Lunch at the Big Sur River Inn Restaurant if you have time. Dine on the deck out back.
If you're pressed for time, skip lunch and head to the back area behind the restaurant/hotel and check out the Big Sur River. Lounge like a King or Queen in one of the oversized chairs.
Tick-Tock, Tick-Tock: Depending on how much time you've spent sight seeing, you'll be close to your time limit at this point if you include the drive back. I'd recommend heading back after seeing the Big Sur River and having a great lunch at the Big Sur River Inn Restaurant.
If you think you might have more time then check out
Must Do Big Sur California


Help me help others enjoy Big Sur to the fullest!
Drop me a quick line of your Big Sur Spots or Restaurant! Pics and Vids fully welcome

Or just leave a quick comment below!!!
Other Big Sur Articles that You May be Interested in: